'Hey' Is the Statistically Worst Icebreaker in Online Dating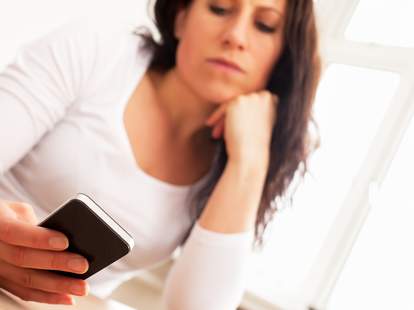 By messaging just "hey" as an opener in an online dating app, you're basically giving up. Sure, you could say something vulgar and maybe get deleted immediately -- but "hey" isn't a helluva lot better. In fact, evidence shows it's the quickest way to get ignored.
According to OKCupid's end of the year report, messages that read, "hey" are ignored 84% of the time. Yikes. On the flip side, the report found that "emotional emoji" boast the highest response rate. So, go with a crying face. Or maybe even the guy with the one with dollar signs for eyes. But literally anything but "hey."
In other news, Oregon is the state with the most people looking for "casual sex," according to OKCupid's data. And on the other side of the penis/vagina usage landscape, Utah has the most virgins.
Unsurprisingly, racial bias was the biggest "deal breaker" among OKCupid users. Yep, that'll do it. You should not be a racist. For dating, and life, purposes.
One more fun fact: use of the term "Netflix and Chill" has increased by 5,357%. Probably because it really wasn't a thing before last year. Bold prediction? Its overuse percentage skyrockets by the same amount in 2016.
Check out the full report here and also... hey.
Sign up here for our daily Thrillist email, and get your fix of the best in food/drink/fun.
Kara King is a News Writer at Thrillist and says hey. Send news tips to news@thrillist.com and follow her at @karatillie.