Hidden Valley Is Making New Ranch-Infused Chicken Salads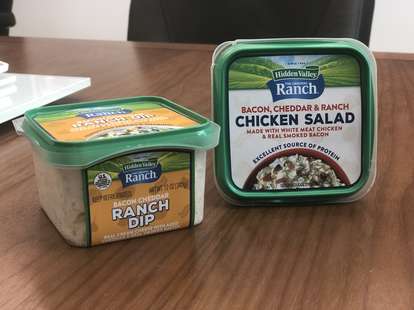 Courtesy of Hidden Valley and Duke Ranch
America kind of has an obsession with ranch -- specifically, Hidden Valley's -- but it's warranted. Ranch is a cool, zesty, herbaceous, and savory all at once. It's great on celery, as a coating on a crispy chicken tender, used as a dip for pizza crust. Ranch is so beloved you can even buy a Christmas stocking full of... Hidden Valley Ranch.
And now the salad dressing/sauce is making its way to the fresh grocery aisle with the introduction of Hidden Valley's newest products: ranch chicken salad and ranch dip.
But wait, you say, isn't ranch already a dip? It sure is, but these new dips -- four of them to be exact -- are intensified with additional ingredients. There will be a Buffalo Ranch Chicken Dip, Bacon Cheddar Ranch Dip, Southwestern Ranch Bean and Cheese Dip, and a Spinach Artichoke Dip (seasoned with ranch, of course). As for the new chicken salads, Hidden Valley will be offering a classic Ranch Chicken Salad as well as a Bacon, Cheddar & Ranch Chicken Salad.
The dips and chicken salads are made in partnership with Duke Brands, a food company that specializes in ready-to-eat products, according to Hidden Valley.
"We have been working with the team at Hidden Valley Food Co. for the past couple years to develop these products," Andrew Smart, the CEO of Duke Brands, said in a press release. "Together, we have created this delicious line of dips and chicken salads, that expands the Hidden Valley Ranch brand further into fresh grocery."
The chicken salad and enhanced ranch dips are slated to arrive in the fresh aisle of the grocery store in 2020.
Sign up here for our daily Thrillist email and subscribe here for our YouTube channel to get your fix of the best in food/drink/fun.
Kat Thompson is a staff writer at Thrillist. Follow her on Twitter @katthompsonn.