Hidden Valley Ranch's Weird Holiday Store Includes a Stocking Filled With Ranch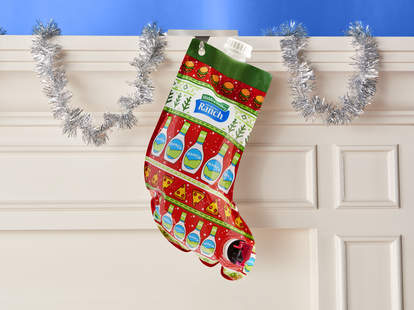 Courtesy of Hidden Valley Ranch
If the holiday season is about any one thing it's this: giving and receiving a bunch of crap you'll drop off at Salvation Army within the year. The practical advice at this point might be to tell you to buy yourself something you really need, practice self-care or whatever. No, you should buy random holiday-themed junk for yourself. Only, you should get the kind that makes you smile and not the kind that forces you to smile and say, "Thanks, Aunt Muriel!" Cashmere reindeer antlers? Treat yourself. A Chia Pet in the shape of Alf? You know what to do. A stocking loaded with creamy ranch dressing? Oh, yes, it exists.
You could create it as a prank and fill an actual stocking with ranch dressing so that it's got a slow, white drip going when you wake up in the morning. Or you could buy it directly from Hidden Valley Ranch because that's something available in its holiday store for $35.
Courtesy of Hidden Valley Ranch
Hidden Valley Ranch has a strange cult following of people who will put ranch on absolutely anything, including as a design on a sweater. The Hidden Valley Ranch Shop has a ton of new holiday swag that launched on November 13, include ranch-themed winter hats, ranch-themed socks, ranch-themed onesies, a ranch-themed ugly holiday sweaters, a ranch-themed ugly Hannukah sweater (that's actually not all that ugly)... You get the gist what's going on here.
There are a ton more items all up in the HVR store right now.
Though, it's clear that the gem of this collection is the giant plastic-lined stocking full of ranch dressing. It even has a pour spout on the bottom so you don't have to take off the mantle in order to cover your holiday meal in ranch. There's no reason this should exist, so I'm very glad it does.
Courtesy of Hidden Valley Ranch
Sign up here for our daily Thrillist email and subscribe here for our YouTube channel to get your fix of the best in food/drink/fun.