Hidden Valley Ranch Is Teaming Up with Truff for an Exclusive New Sauce
The creamy ranch maker and truffle hot sauce brand are launching the ultimate hybrid.
Courtesy of Hidden Valley Ranch/Truff
Courtesy of Hidden Valley Ranch/Truff
There are three constants in my life (and no, this isn't some sappy proclamation of love, unless you count love for condiments). Ranch, hot sauce, and truffle are my tried and true—and now, two fan-favorite brands are combining all three.
OG ranch maker Hidden Valley is teaming up with trendy Truff for the exclusive new flavor. The collab takes Truff's Original Black Truffle Hot Sauce and infuses it with creamy Hidden Valley Ranch for the flavor hybrid of our dreams.
"Truff is all about flavor exploration and re-imagination. While we've had the privilege of working with world-class chefs, sometimes the best suggestions come from our customers, who have been very vocal about requesting a truffle ranch," Co-Founder and Co-CEO of Truff Nick Ajluni said in the press release. "Partnering with Hidden Valley Ranch was the obvious choice. Not only are they the original ranch, but they're a truly iconic brand with a passionate community that's helped make ranch a cultural phenomenon."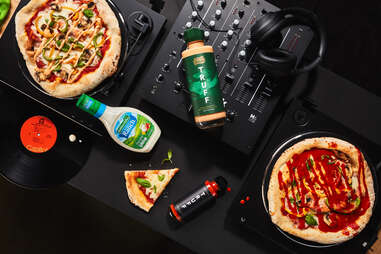 The Spicy Truffle Ranch includes a kick of red chiles with the umami depth of black truffles and the tangy, creaminess of ranch.
"Hidden Valley Ranch is always looking to offer new and unexpected ways for our fans to experience the ranch flavor they love." says Deb Crandall, Marketing Director at Hidden Valley Ranch. "TRUFF is the perfect partner, with their unique, elevated hot sauce that is unlike any other. Together, we knew we could develop a perfectly blended product with extraordinary flavor we know our consumers will love!"
The limited edition bottle is rolling on August 30 at 11 am and is available exclusively at Truff.com/HVRanch for $24.99. Hop on the waitlist now so you don't miss the drop.