Hidden Valley Ranch Just Unleashed 'RanchNog' for the Holidays
The dressing maker is changing up the holiday classic beverage as part of a seasonal collection.
Courtesy of Hidden Valley Ranch
There are a lot of reasons to love the holidays, including the focus on food. There are staple items that are essential to celebrating the holiday season, like pumpkin pie, latkes, and, of course, eggnog. While the latter foodstuff is already controversial in some circles, it looks like Hidden Valley is gearing up to make even more waves with it this holiday season.
The dressing brand announced the launch of its new holiday collection, which includes—get ready for it—a limited-edition Holiday RanchNog Kit. Hidden Valley created the bizarre beverage in conjunction with the mixologists from Whiskey and Rosemary, according to a spokesperson. The company claims that RanchNog has all the creaminess of traditional eggnog, plus the tangy, savory, and herb-filled notes of ranch dressing. Hidden Valley's RanchNog Kit comes with everything you need to make the holiday drink, including two glasses and a gold jigger.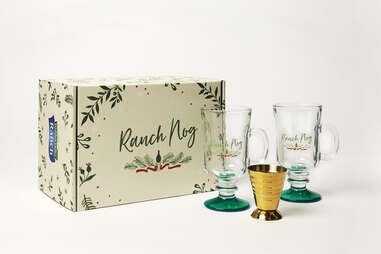 Of course, Hidden Valley is gifting fans more than just a polarizing take on an already polarizing drink this holiday season. The line includes more traditional—and practical—options for the ranch-lover in your life.
Here's a look at the full collection:
Hidden Valley Ranch Suitcase
Hidden Valley Ranch Yoga Lovers Kit
Hidden Valley Ranch Pizza Lovers Kit
Hidden Valley Ranch Night Kit
The Hidden Valley Ranch Holiday Collection is available via the Hidden Valley Ranch Shop. The items will be listed while supplies last. Then again, we're not sure if we're ready for RanchNog to become a holiday menu fixture anyway...
Caitlyn Hitt is Daria IRL. Don't take our word for it—find her on Twitter @nyltiaccc.