This Map Shows the Highest Paying Employers in All 50 States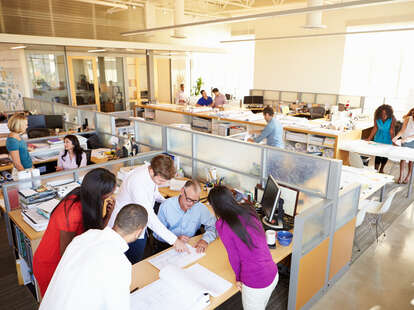 Courtesy: Howmuch.net
Courtesy: Howmuch.net
The United States has the world's largest economy and boasts a lot of rich people who command high salaries. The state of California recently overtook the United Kingdom in terms of economic power, for example. But as a new map from Howmuch.net demonstrates, you'll probably need an advanced degree to work at the highest paying company in your state.
To compile the map (shown below), the personal finance site combed through data provided by the AFL-CIO and determined which companies pay rank-and-file workers the greatest average salaries across all 50 states. You'll see the map is color-coded according to each industry, with lots of energy and healthcare companies dotting the landscape. You'll likely notice something particularly strange about the map as well: Many of the companies listed are pretty obscure, as opposed to American multinational banks and the tech giants of Silicon Valley.
And of course, predominant state industries play a major part too, as energy companies in the South and Great Plains form a large crux of the territory, while banks are just a paltry sliver.
Here's the full map:
Here, for example, are the top 10 highest paying companies on average, and their respective home bases and industries:
10. Utah: Lipocine, $299,612 (health)
9. Texas: Capstead Mortgage Corporation, $300,000 (real estate)
8. Maryland: Chesapeake Lodging Trust, $347,750 (real estate)
7. New York: Intra-Cellular Therapies, $354,916 (health)
6. Michigan: Esperion Therapeutics, $409,294 (health)
5. Virginia: Arlington Asset Investment Corp, $483,502 (financial)
4. Massachusetts: Infinity Pharmaceuticals, $495,513 (health)
3. California: Geron Corporation, $500,250 (health)
2. Nevada: VirnetX Holding Corp, $562,062 (technology)
1. New Jersey: NRG Yield, $964,005 (energy)
One very important thing to consider about the map: Most of these companies have very small payrolls compared to behemoths like Amazon, Google, Nike, or Walmart. As Howmuch.net concedes: "On average, the top 10 companies listed above only employ 21 people each (that data wasn't available for NRG Yield). In other words, these are extraordinarily hard jobs to find."
In any case, don't expect to polish your resume for an elite research post at an oil and gas juggernaut if you don't have the qualifications. For jobs that don't require a doctoral degree and assumedly a great deal of student debt, this might be more your speed.
Sign up here for our daily Thrillist email and subscribe here for our YouTube channel to get your fix of the best in food/drink/fun.
 
Sam Blum is a News Staff Writer for Thrillist. He's also a martial arts and music nerd who appreciates a fine sandwich and cute dogs. Find his clips in The Guardian, Rolling Stone, The A.V. Club and Esquire. He's on Twitter @Blumnessmonster.