Hillary Clinton Wants to End Tipping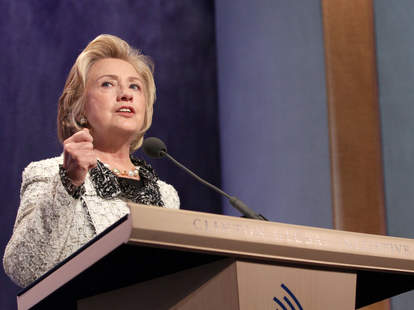 <a href="http://www.shutterstock.com/gallery-1803410p1.html?cr=00&amp;pl=edit-00">JStone</a> / <a href="http://www.shutterstock.com/editorial?cr=00&amp;pl=edit-00">Shutterstock.com</a>
The practice of tipping has a well-documented argument forand against; of late, big names like Danny Meyer of Union Square Hospitality Group and Joe's Crab Shack have banned the practice, seeming to point to a future without tipping, and for livable wages. But now, the great tip debate's gone all the way to the top, with presidential hopeful Hillary Clinton offering her stance on the issue. 
"We are the only industrialized country in the world that requires tipped workers to take their income in tips instead of wages," Clinton said in a speech last week at New York's Javits Center, according to AM New York. She then went on to call the payment of some tipped workers only $2.30 per hour "shameful."
Of course, Clinton favors increasing wages, claiming that "No one who works full time should have to still be living and raising their children in poverty." The whole goal here is to pay servers more to begin with and get to a point where pissy customers can't determine a worker's wages. 
But until the whole decent wage thing is fixed, you should still tip that server who's speedy with the water refills and fielding requests, unless you're at one of these places. Or, ya know, if you're just an asshole.
Sign up here for our daily Thrillist email, and get your fix of the best in food/drink/fun.
Kara King is a News Writer at Thrillist and could use a water refill. Send news tips to news@thrillist.com and follow her at @karatillie.