A Dating App Will Give You $100 to Shut Your Phone Off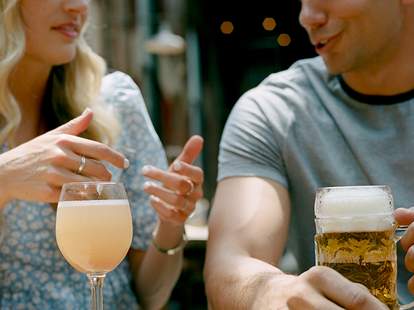 You're having a nice dinner with someone you care about. You don't even have to think about conversation topics, they come up so naturally. The entrées just arrived and buzzzzzz. Their phone goes off. They look down to check the message.
This isn't at all unfamiliar, and, for most people, you might not give it a second thought as long as your companion just tucks their phone away after checking the message. But that's not always how it goes, and that's why we have the naggy National Day of Unplugging on March 6. However, you can turn the chiding faux holiday to your advantage because the Hinge dating app will give you $100 to go on a date and not use your phone. 
Hinge users that meet up with someone on March 6 and don't use the Hinge app for 24 hours can get $100 for a date. The app will dole out that money until it has given out $25,000. It's a pretty easy way to make a good first impression.
"Introducing people on Hinge is just the beginning of a connection," Nathan Roth, Hinge CMO, said in a statement. "The real magic happens in person and in real life. We'll never stop encouraging our users to meet up, and this Friday, we're excited to give them a little extra incentive to set up a date and put Hinge away."
If you're waiting for the catch, there isn't really one except that you have to go on a date. To get the cash, set up a date on Hinge and on March 6 at 4pm ET, open the app and hit the option to pause your account. It'll have to be paused for a full 24 hours. Afterward, fill out a form at unplugwithhinge.com and respond to your "we met" survey before midnight on March 8. Boom, you're $100 richer. Or, at least, you got the money back from last night's dinner. 
Sign up here for our daily Thrillist email and subscribe here for our YouTube channel to get your fix of the best in food/drink/fun.