Hinge's New Setting Makes It Much Less Embarrassing to Ask Someone on a Virtual Date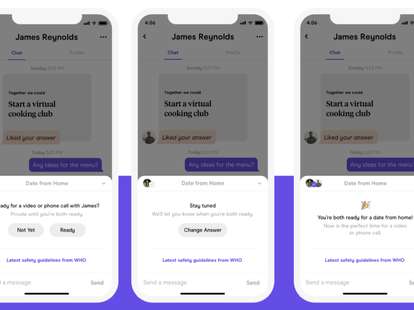 Due to social distancing restrictions, we single adults have reentered the age of middle school romance, wherein both parties are seeking AIM-like chatroom affection over romantic IRL experiences, not because we don't want IRL experience, but because a paralyzing social fear is keeping us away.
But the popular dating app Hinge has just released a feature that'll help you move your virtual relationships forward without immediately losing your mask of sexy and strategic elusivity; It's basically making it easier to get a video call going, by allowing users to communicate their interest in video chatting in a way that isn't immediately and embarrassingly broadcast to their matches.
The feature, which became available on April 7, is called "Date from Home." It takes the form of a menu at the bottom of the conversation with your match. This feature indicates whether or not you're ready to go on a "digital date" without immediately sending a push notification to your match saying "PLEASE, I'M SO ALONE" the moment you say yes. In fact, your match won't even know you said yes to a virtual date unless they, too, say yes, at which point you both will be notified of the mutual interest.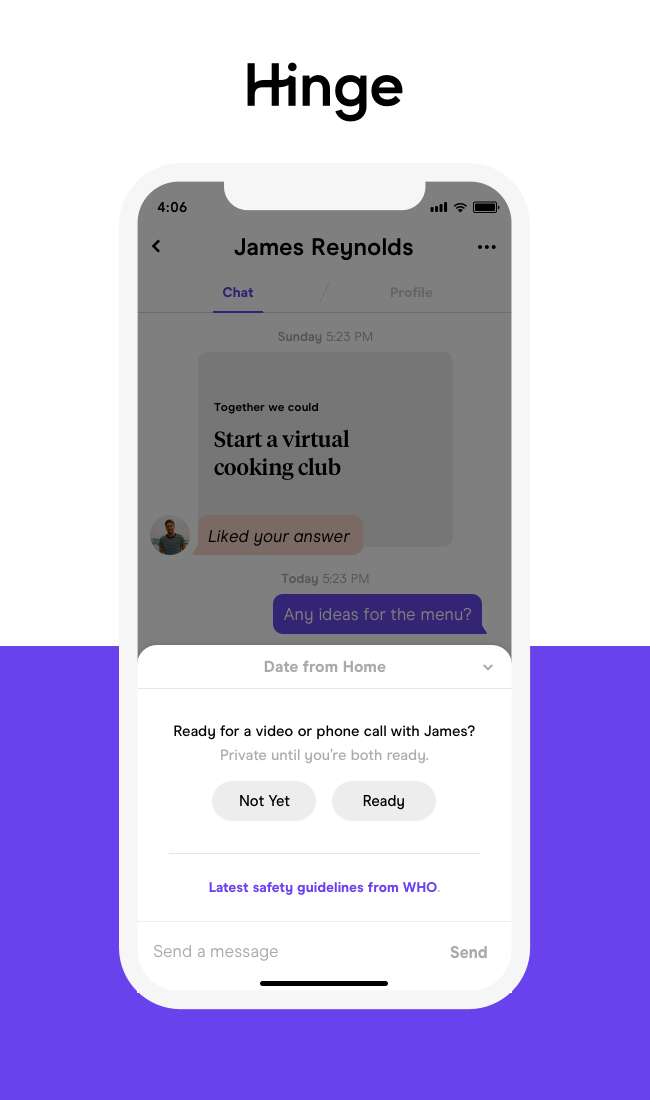 "While we may need to be physically distant right now, we can still be socially connected," Tim MacGougan, Chief Product Officer at Hinge, said in a press release. And people are certainly open to virtual dating now in this strange and indefinite time. Hinge polled their users and found that around 70% of members would be open to a virtual date via Zoom, Facetime or something or that sort.
I personally found this a little hard to believe, so I polled my (sparse) Instagram following and was surprised to hear virtual dating stories from three close friends I had no idea were even open to video chatting as a concept. Unfortunately their stories were NSFA, or they were afraid the new love of their life would feel exposed, so I was asked not to share any quotes.
Let's face it... Gone are the days of screaming at your Hinge/OK Cupid/Tinder date over the roar of fellas playing inebriated darts at your tiny local pub. This is the age of sneaking way too much wine off-screen and quietly telling a person you just met that like, yeah, things are kinda hard, but you started crocheting, and it's gonna be OK.
Sign up here for our daily Thrillist email and subscribe here for our YouTube channel to get your fix of the best in food/drink/fun.