H&M's New Pizza Costume Is Cheap and Great, Just Like Pizza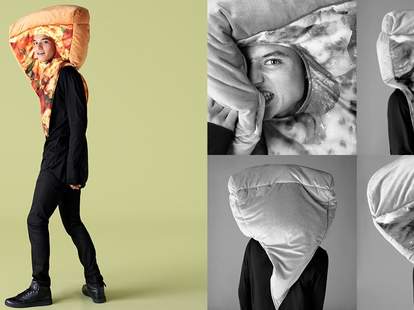 With massive cultural events this year like the Olympics, Pokémon Go, and the presidential election, it's safe to say you'll see Phelps Face, Pikachu, and Ken Bone costumes this Halloween. And while you may be tempted to bring the scary clown epidemic to your office Halloween party, H&M just started selling a pizza slice costume and, well, it's damn near impossible not to want one.
Look, you already eat more pizza every week than you probably care to admit, so you might as well look like the cheesy, greasy, saucy stuff, right? It's the least you can do to honor the world's most perfect food.
Dubbed the "Masquerade Costume" on H&M's online store, the giant pizza slice appears to fit over your head like an oversized hat, instantly transforming you into a pizza slice with legs. A circular opening on the front puts your face right in the middle of all the cheese and toppings, you know, where it belongs. According to the product's description, it also features a polyester fill, so you can count on it keeping you warm on a chilly October night, sort of like pizza. Perhaps the best part is that it costs much less than considerably less-cool Halloween costumes at just $30.
Now, all you have to do is wear it while eating a slice of pizza at your Halloween party, and you'll basically trigger pizza inception. 
Sign up here for our daily Thrillist email, and get your fix of the best in food/drink/fun.
Tony Merevick is Cities News Editor at Thrillist and finally knows what he's going to be for Halloween. Send news tips to news@thrillist.com and follow him on Twitter @tonymerevick.