Here Are the Days Expected to Be the Best & Worst for Holiday Travel This Year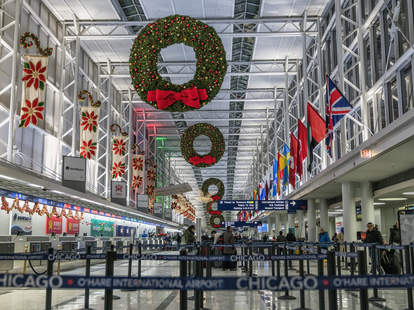 Traveling during the holidays is, and I cannot stress this enough, not fun. Agonizing security lines and grumpy TSA checkpoint agents are merely unavoidable. But if you've gotta hop that December flight home, might I suggest booking for Christmas Day. 
This isn't some lame sabotage attempt. Airlines for America (A4A), the industry trade group for major airlines, revealed its projections for travel around the Christmas holiday this year on Tuesday, including which days it expects will be the busiest and the slowest based on the volume of travelers. Specifically, the organization found that Christmas Eve, Christmas Day, and New Year's Eve will be the season's lightest travel days while Friday, December 20; Saturday, December 21; Friday, December 27; and Thursday, December 26 will likely be the busiest, aka the worst. 
But look, I can't sugar coat it. The airport will still be flooded with travelers. A4A has projected a whopping 47.5 million passengers will fly during the 18-day holiday travel period, beginning Thursday, December 19 and running through Sunday, January 5. As many as 2.6 million people are expected to cram into planes daily. And according to the report, that number has risen nearly 3% since last year, forcing airlines to offer 88,000 additional seats and 884 more flights each day.
"Throughout this year we've seen steady gains in air travel demand, and this winter will be no exception" Vice President and Chief Economist John Heimlich said in a statement. "Buoyed by a healthy economy and plentiful, affordable air service, travelers once again are expected to take to the skies in record numbers."
If you're planning to fly, don't count on having much fun. But make it easier on yourself and opt for lower traffic day. You can thank me later.
Sign up here for our daily Thrillist email and subscribe here for our YouTube channel to get your fix of the best in food/drink/fun.
Megan Schaltegger is a staff writer at Thrillist. Follow her @MegSchaltegger.