Revel In It, This Is the Thinnest You'll Be All Year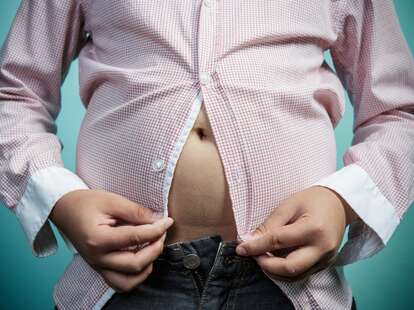 Shutterstock
Shutterstock
Time for some bad news. One Cornell University professor has conducted a study aimed at making sure you know that things aren't going to get any better than they are right now. The research published as a letter to the editor in The New England Journal of Medicine says that if you're at all like the Americans in this study, this week or next you'll be the skinniest you'll be all year.
Toward the end of October, most weights tend to start trending upward through Halloween's candy grazing, Thanksgiving's week-long glutton-a-thon, and the celebratory get-togethers of Hanukkah and Christmas, both centered around food. The weights in the study tended to peak right around New Year's Day.
After that, weight very slowly starts to come off until about April, when participants got back to their average weight. "Anything that happens in these next 10 weeks, on average, takes about five months to come off," Professor Brian Wansink of Cornell's business school told The New York Times. He conducted the study with Elina Helendaer of Tampere University of Technology in Finland and Angela Chieh at Withings, which sells health-monitoring devices.
The research compiles data from thousands of Withings' wireless scales. The data tracked weight gain and loss among adults in the United States, Japan, and Germany starting back in August 2012. Of the participants, 1,800 were from the U.S., while it tracked around 800 from Germany and just under 400 from Japan. While the results varied by country, they tended to show the same kind of increases around holidays.
The fact that participants had the scale, which values at around $150, suggests that the sample is a specific population with the means and desire to track and control their weight. But Professor Wansink argues that this just further proves his point. He contends that this is a population less likely to put on excess weight. "Even among this diligent, almost-ideal population, there's no escaping this almost inevitable holiday weight gain," he says.
So, congratulations. This is as good as things are going to get. Get ready for a marathon of candy, turkey, stuffing, latkes, eggnog, fruit cake and terribly frustrating political discussions with strange relatives. Oh, and beer.
Sign up here for our daily Thrillist email, and get your fix of the best in food/drink/fun.
Dustin Nelson is a News Writer with Thrillist. He holds a Guinness World Record, but has never met the fingernail lady. He's written for Sports Illustrated, Men's Journal, The Rumpus, and other digital wonderlands. Follow him @dlukenelson.