A Chili Cheese Dip-Flavored Beer Is Now an Option for Your Super Bowl Party
Chili Cheese Brew genuinely brings the flavors of Chili Cheese Dip to a can of beer.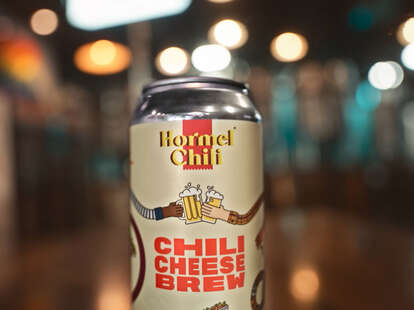 Courtesy of Hormel
Courtesy of Hormel
The Super Bowl manages to bring a lot of casual viewers to the table. Spectators who don't care about the game tune in for commercials or gather just because there will be some good food.
Dips are an essential part of a Super Bowl spread. Hormel wants to remind everyone it has a Chili Cheese dip by... releasing a beer? No, it's not a crisp lager crafted to accompany a plate of chips and dip. It is instead Chili Cheese Dip-inspired beer, which is being made by Minnesota's Modist Brewing.
Many stunt beers approach this kind of situation by attempting to just slightly nod toward their inspiration or craft the drink's ingredients to complement its inspiration rather than embody it. Having tried Hormel's Chili Cheese Brew, we can confirm that this is not the case. This beer evokes Chili Cheese Dip in a big way.
Jack Greer, Head Brewer at Modist, tells Thrillist the brewery embraced the challenge and went all-in on building a beer that screamed Chili Cheese Dip. Modist added powdered cheese on the hot side of the brew, the base of which is a lightly hopped corn lager. They then added a whole lot of chili spices into the mix. After running through the brewery's centrifuge, the result is a crisp golden color.
The chili seasoning surfaces immediately in the aroma as it pours. "We're kind of used to getting requests to do strange beers," Greer says. "I've made a lot of wacky beers over the years, but this one maybe takes the cake." The beer may have a, uh, unique taste, but Greer recommends it as a beer back to a bloody Mary. That pairing sounds like it could make you want to have more than just a cautious sip.
Neither company is a stranger to unexpected happenings around the Super Bowl. Hormel released a keg of its Chili Cheese Dip last year, and Modist was famously served an over-the-top cease and desist from Anheuser Busch for its Dilly Dilly beer in 2018.
Hormel will make four packs of Chili Cheese Brew available to order online starting at 8 am on January 24. You'll be able to grab the limited release at HormelChiliCheeseBrew.com for $24. It'll also be on tap for a limited time in the Modist taproom.
If you're not sure what to bring to your Super Bowl party, this will, at a minimum, start some conversations.