This Olympic Horse Danced to Santana's 'Smooth' and Won the Gold for Musical Taste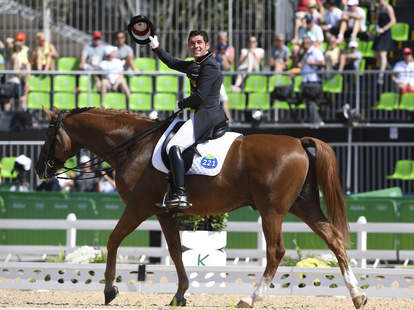 If you've ever thrown a summertime soiree, you know how crucial a part the soundtrack plays. When you get it right, the entire place erupts -- like when thundering drums introduce the wailing guitar and stylish Latin horns of Santana's 1999 hit "Smooth" featuring Rob Thomas.
Well, while the Olympics are all about the spirit of competition, only one athlete seems to understand what it means to be Supernatural -- turning the always staid equestrian dressage into his own personal house party by playing the unassailable collaboration with Matchbox 20's frontman and having his horse dance to it.
As NBC Sports's description states, "Spain's Severo Jesus Jurado Lopez rides his horse - Lorenzo - to a dressage routine featuring everyone's favorite Latin rock song by Santana from the 90s." Had NBC done its research, however, it would have found a factual inaccuracy: "Smooth" is not everyone's favorite Latin rock song by Santana from the 90s. In fact, it's just everyone's favorite song.
Unfortunately, Jurado and Lorenzo did not medal in their event. But honestly, who cares? We're talking about people in foofy outfits making horses dance for judges. Olympic medals come every four years -- "Smooth" comes only once in a lifetime.
Sign up here for our daily Thrillist email, and get your fix of the best in food/drink/fun.
Ryan Craggs is Thrillist's Senior News Editor. He's a hot one. Like seven inches from the midday sun. Follow him @ryanrcraggs.