Hostess Is Unleashing Dark Blue Twinkies That Look Out of This World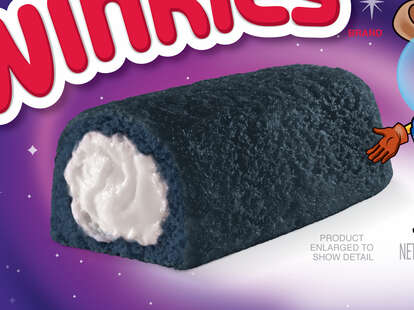 Have you ever gazed longingly at the night sky, deep in thought about Twinkies? If this very specific scenario has ever happened to you, you're in luck. If not, stick with us anyway.
Twinkies is trading in its signature golden yellow cake for a more mysterious navy blue hue that will almost surely stain your teeth or dye your insides. The beloved packaged cake is debuting a new flavor -- dubbed "Moonberry" -- which features a mystery berry creme filling stuffed inside a dark blue spongecake meant to replicate the shades of a nighttime sky.
The Moonberry Twinkies arrive just weeks after the 50th anniversary of the Apollo moon landing, which, kind of like these limited-edition Twinkies, was another giant leap for mankind.
You can nab the Moonberry Twinkies now at Walmart, which will cost you $2.97 for a pack of 10. The specialty flavor is only available for a limited time, so hurry before the moon sets on this flavor.
Sign up here for our daily Thrillist email and subscribe here for our YouTube channel to get your fix of the best in food/drink/fun.
Kat Thompson is a staff writer at Thrillist. Follow her on Twitter @katthompsonn.