This New Catskills Boutique Hotel Brought a Victorian Estate Back to Life
Hotel Lilien opened in December 2022, and it is located in Tannersville.
Photo by Daniel Schwartz, courtesy of Hotel Lilien
When you set foot inside Hotel Lilien, it feels like you've been teleported inside the Knives Out estate—Minus the murder, of course.
The vibe is the same. Picture a Victorian-era mansion within an eight-acre property, and throw in quirky antiques, hidden lounge nooks, and a few modern design additions which remind you that, in reality, this is 2023 and you're just on a blissful Catskills retreat in Tannersville, just two hours away from the Big Apple.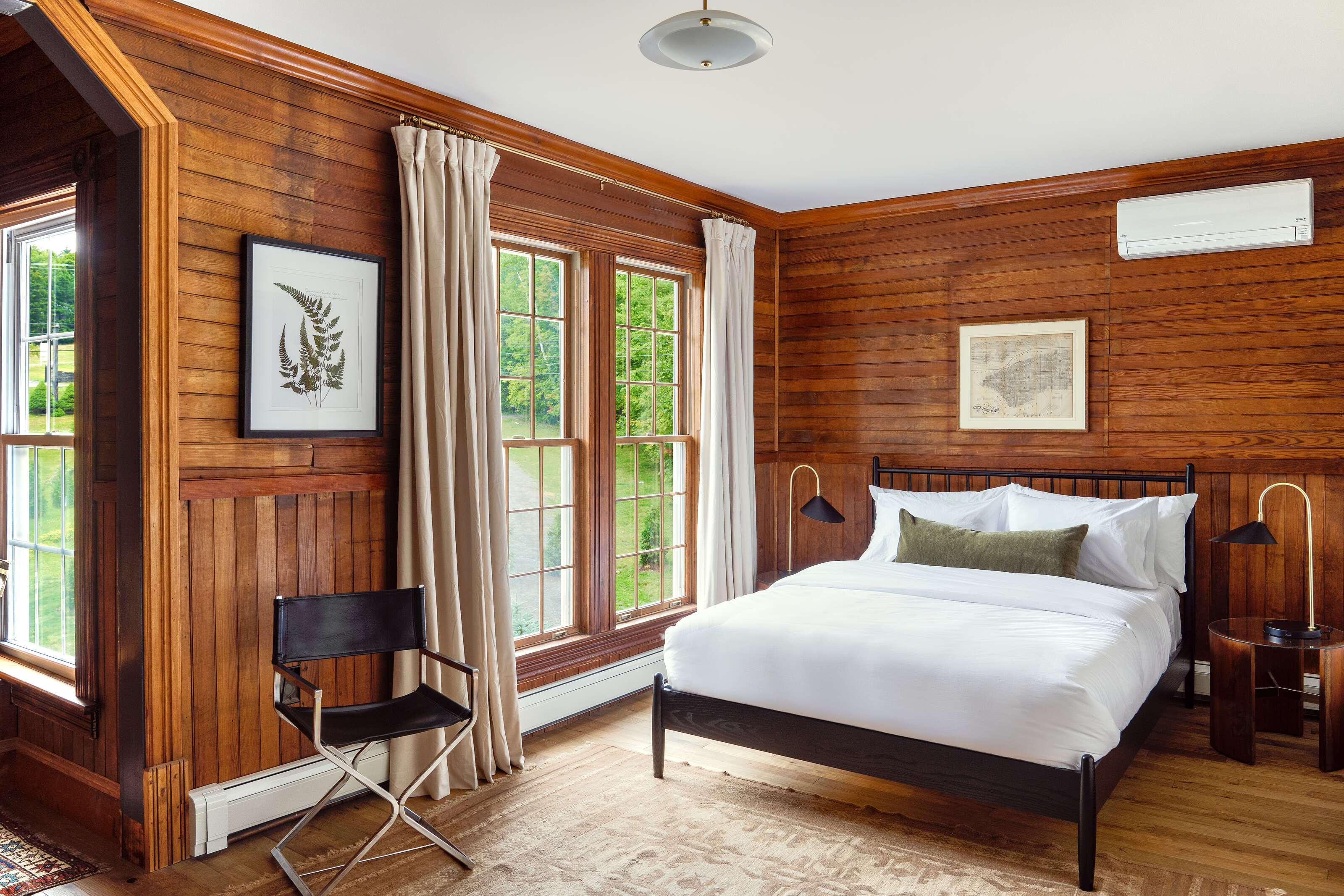 But the place itself is, in fact, as old as it seems. Originally, the estate dates back to the 1890s, but it just recently underwent a renovation and redesign process in 2022 to finally open to the public last December. Currently, the hotel is managed by The Lost Boys Hospitality Group, which you might have heard of in relation to their guest-favorite Panama properties.
More than a movie set, though, one might have the feeling they have been teleported inside a game of Clue, kind of Jumanji-style. The rooms, which come in different formats including full, queen, double queen, king, deck king or queen plus bunk, and a gorgeous king suite, are all different from one another. There's 18 of them, and each one has its own signature furniture, shape, and pizzazz. Likely owing to the Victorian vibe, there are no TVs in the rooms and common spaces, though guests have free Wi-Fi access and streaming is supported.
A narrow yet cozy half-spiral staircase cluttered with vintage animal posters and paintings connects the room floors with the tiny entrance atrium, which successfully brings a homey vibe complete with a wooden coat hanger in the stair's corner. Next to a silver Victorian vanity mirror, past the small reception desk, and behind French doors you can find the real life of the party—the bar and lounge area.
As soon as you walk in, the warmth of a wood burning stove takes your cheeks in a cozy embrace. On a recent Saturday night, after a long day of skiing at one of the nearby resorts, guests were drinking, eating, and chatting all over the room, whether it was at one of the wooden tables or on the comfortable couches and chairs that make you feel like you're sinking deep into relaxation. Some guests were even playing pool while sipping on a craft beer or a wintery cocktail. Outside, a heavy snowfall coated the ground and the outdoor patio.
Adjacent to the bar and lounge area, a proper library adorned with original wood paneling and gorgeous stained glass windows invites guests to come in and stay a little bit longer. Books and magazines of all shapes and sizes are available for you to peruse, or you can choose to just sit in idleness in the library's more secluded and intimate space. During the spring and summer months, you can take that spirit of relaxation outside, where the pool allows guests to soak in the refreshing water while surrounded by the Catskills' greenery.
Hotel Lilien comes prepared when it comes to light bites and good drinks. While the menu is simple and pretty minimal, one couldn't say the same about its items' flavors. The absolute superstar among them all is the fried chicken sandwich, which comes with homemade slaw and bread-and-butter pickles on a toasted potato bun. Its richness, crispiness, and sweetness are effectively balanced by an order of Hotel Lilien's marinated olives (featuring orange peel, lemon, thyme, rosemary, and red pepper flakes). You also better not sleep on the whipped butter board, which features variations on butter featuring rum-soaked figs, hot honey oil, toasted pumpkin seeds, fresh herbs, and sea salt. It looks almost too pretty for you to ruin it with a swipe of bread.
After dinner, guests are invited to hang out, and maybe grab a drink or play games by the fire. On Saturdays, there is currently a resident DJ who will create the right vibe for you to enjoy some post-dinner conversation in the lively lounge. If you have space for dessert or are simply craving something sweet, Hotel Lilien has only one option for you, just like grandma would: Milk and cookies.
Breakfast is held in the same area, and the vibe is much different. A complimentary modern continental breakfast is prepared on a plate and brought directly to you once you make your way to your table, and every guest is served the same meal. A warm croissant, a hardboiled egg, a yogurt parfait with granola and fresh berries, and a few slices of cheese and prosciutto are all part of the breakfast tray, and guests are invited to grab their coffee and tea at the side of the bar as many times as they like.
But don't get too comfortable, or you'll miss out on what the hotel's surroundings have to offer. Whether it's for a winter sport or for a summer hike, Windham Mountain and Hunter Mountain are located incredibly close to Hotel Lilien, and they're easily reachable by car. And if you're lucky like I was, you might even get 15 inches of fresh powder overnight to really add the cherry on top of an already top-notch mountain getaway experience.