A Nutella-Themed Hotel Is Opening Its Doors in January
Lots of food is good. To pick something at random, onions are great. They make lots of meals better. But not many people genuinely go crazy for onions and wear onion sweatshirts or open pop-up shops dedicated to the glory of the onion. (For the record, I'd be there.) Only a few select foods can make people pledge their undying devotion. The chocolatey goodness of Nutella is one of those things. So, it's maybe not entirely surprising that Nutella is planning a hazelnut-packed weekend at a pop-up hotel called Hotella Nutella.
The pop-up hotel in Napa Valley is going to be full of, well, Nutella. Nutella pillows, Nutella wallpaper, Nutella other stuff, and, of course, actual Nutella. It'll be paradise if you feel like Nutella goes well on just about everything that exists.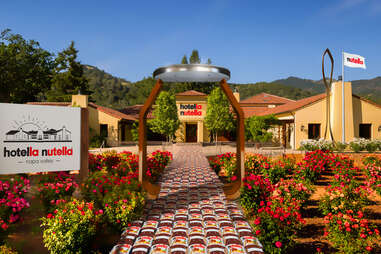 The company also promises "interactive breakfast sessions dreamed up by the Nutella Weekend Breakfast Chef Team." No clue what that means, but if you're a nut for Nutella, it's probably a good thing. The team will include Geoffrey Zakarian of Iron Chef, Brown Sugar Kitchen owner and TV personality Tanya Holland, and DanCakes, the pancake artist team.
The pop-up hotel will only be open for a single weekend over January 10-12, 2020. There are just a few rooms available as well, and they're being saved for "Nutella-aficionados" and their guests. To crown yourself as one of the world's biggest hazelnut spread fans, you'll need to make and submit a video about why you eat it in the morning and why you deserve this absurd experience. You can find details about submitting your video of 60 seconds or less at HotellaNutella.com, which will take submissions from November 13 through December 8.
Absolutely nowhere does it state that it's disqualifying to cover your entire body in Nutella and have friends throw marshmallows at you to see how many stick. You don't have to do that, but it doesn't say you can't. Just one idea.
Sign up here for our daily Thrillist email and subscribe here for our YouTube channel to get your fix of the best in food/drink/fun.