This Dream Job Pays $5K/Week to Travel & Review Fancy Hotel Pools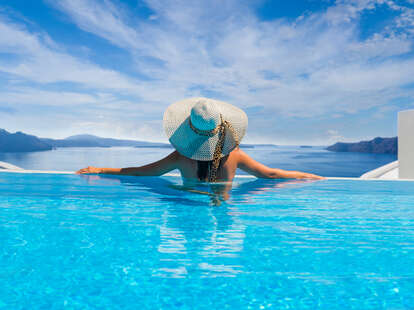 Shutterstock.com
Shutterstock.com
It's a solid summer to have two weeks of vacation time just hanging around unclaimed. First, Reynolds Wrap announced a two-week gig where you get paid $10,000 to travel the country eating BBQ. Now, Hotels.com is offering a similar opportunity.
The company is hiring a "Poolhop" to research the "most epic hotel pools" in the United States. As absurd as that sounds, the job is pretty straight forward. Over the course of two weeks in August, the Poolhop stops at six hotel properties, has some drinks, swims, takes photos, and pockets $10,000 for their trouble. Pretty solid deal, right?
There really aren't any other duties. You have to document the experience and "report back to reward-loving Hotels.com fans." In addition to the cash, your travel and lodging are covered, and you'll also get one year of Gold Rewards member status on Hotels.com.
"No one wants to be sitting at a desk all summer," Katie Junod, general manager of the Hotels.com brand in North America, said in a statement. "There are so many incredible hotel pools to explore across the country and we want to give travelers a first-hand look at the crème de la crème."
Best of all, you're not just checking out the leafy pool at Lucky's Roadside Motel & Diner in South Dakota. You're hitting the Four Seasons Hualalai in Kona, Hawaii; the Mondrian Los Angeles in Los Angeles, California; the SLS Las Vegas in Las Vegas, Nevada; the Garden of the Gods Club and Resort in Colorado Springs, Colorado; The William Vale Hotel in Brooklyn, New York; and the National Hotel in Miami, Florida.
Interested potential pool connaisseurs can apply for the gig from June 18 to June 25. It's a simple form. You're writing 100 words on why you should get the gig and serving up a 100-word review of a hotel pool. Don't forget to pack the sunscreen.
Sign up here for our daily Thrillist email and subscribe here for our YouTube channel to get your fix of the best in food/drink/fun.