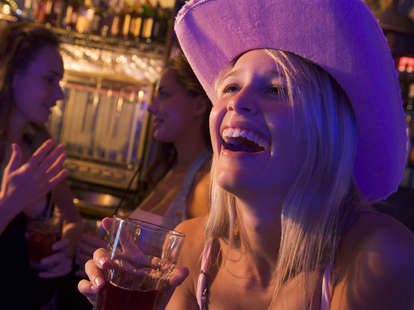 If you're one of those people who just wants to cuddle up with some peppermint herbal tea and Netflix the newest rom-com on a Friday night, then don't check out this list of America's best party cities. This list isn't for you.
But if you fancy yourself the party animal, Evite, a social event planning service, just released a ranking of the best cities for parties in 2015. They calculated the number of weekend parties and the number of "Yes" RSVPs on their site in 39 US metro areas over the last year, and found that Houston, yes, a city in Texas, beat out everyone. Turns out both categories netted the same top three, with Chicago coming in second, and another Texas city, Austin placing third. Bottom line, don't mess with Texas, but for an entirely new, fun-loving reason.
Surprisingly, Miami and Las Vegas were left off the top 10 on both lists. If these cities don't win in parties what do they win in?? Orange skin tones?
Check out the top 10 below, and then turn off Fever Pitch, and pack your bags.

Most "Yes" RSVPs
10. Dallas (501,498)
9. Washington, D.C.(541,138)
8. San Francisco (559,082)
7. Atlanta (561,524)
6. Los Angeles (584,039)
5. New York (614,302)
4. San Diego (632,947)
3. Austin (706,253)
2. Chicago (797,208)
1. Houston (815,290)

Most Parties on the Weekends
10. Washington D.C. / San Francisco (33,546 and 33,464)
9. Seattle (34,714)
8. Los Angeles (36,146)
7. New York (36,200)
6. San Jose (36,466)
5. Atlanta (37,595)
4. San Diego (44,213)
3. Austin (48,526)
2. Chicago (52,786)
1. Houston (55,065)
Sign up here for our daily Thrillist email, and get your fix of the best in food/drink/fun.
Kara King is a News Writer at Thrillist and watches Netflix on Friday nights. Send news tips to news@thrillist.com and follow her at @karatillie.