Illustration by Maitane Romagosa for Thrillist
Illustration by Maitane Romagosa for Thrillist
American life has changed significantly since March 2020—including our eating habits. Many local restaurants have seen business crumble as indoor dining has been allowed and then disallowed, repeatedly. Meanwhile, the dining scene upheaval has created opportunities for fast food chains. Having the ability to efficiently serve customers via drive-thrus, delivery services, and expensive technology has made them well equipped to survive this pandemic.
Fast food sales are up. In fact, fast food chains have improved their offerings, made it more convenient to order their food, and are reimagining what their restaurants will look like when things return to normal. Fast food will come out of the pandemic looking quite different. And in many ways, better than ever.
Fast food is getting even faster (and less expensive).
Raise your hand if you ever craved a salad at McDonald's. Wait, why is no one raising their hand? In June 2020, McDonald's cut salads, bagels, and yogurt parfaits. This was part of a wider trend designed to improve your experience.
"[Fast food chains] have scaled back a number of products," said R. J. Hottovy, CFA, an expert on the restaurant industry, and the Director of Financial Analytics at Aaron Allen & Associates. "It's all about speed of service with more transactions; particularly, more delivery transactions. It's important to be quick. A slimmed down menu is key to making that happen." Whether you're pulling up to a drive-thru or ordering via a delivery app, your food gets to you faster as a result of a smaller menu.
Another change fast food chains are responding to: People are spending more time at home during the pandemic with family and loved ones. More shared meals equals more buying food together.
"You've seen significant check growth from pick-up and delivery—check sizes have tripled in the fast food world," explained Matt DiFrisco, Managing Director of Investment Banking at Wedbush Securities, who's been covering restaurants for over two decades. "It's not a $7 average check, it's a $21 dollar check. That doesn't mean one individual's eating $21 [worth of food], it means there's more group eating. [The food] is going home and feeding a family of four or an apartment full of college guys."
It's like they say: Art imitates life, life imitates Taco Bell commercials.
Bundle deals are being promoted on TV and in delivery apps like Uber Eats, where we recently found a 40-piece McNuggets with two large fries for $15 (a four-piece McNugget is typically $1.89, so that's about a ten-cent discount per nugget). Chains know that we're not eating alone as much, though props to anyone who eats 40 nugs on their own. And because indoor dining isn't a possibility everywhere, companies are experimenting with bringing a fun experience to your home. Fast food chains could easily imitate Domino's, which partnered with the movie streaming service Epix to offer a free 30-day trial to anyone who placed an online order.
Fast food has never been easier to order.
DiFrisco noted that before the pandemic, drive-thru orders comprised 70% of a chain's business, with the remaining 30% was split between carry-out and dine-in. And with restaurants having to restrict seating capacity, DiFrisco said that's helped the chains.
"[Chains have benefited] when full-service restaurants were completely closed," he said. "There's a scarcity of restaurants to eat from. If you ate at McDonald's once a month, but every other full-service restaurant in the market closed, you probably said, 'Let's go there three to four times.'"
Chains are adding drive-thru lanes to speed things up, and dedicating parking spaces out front for easy curbside pickup. Chipotle's popularizing of "Chipotlanes" before the pandemic—mobile app ordering with pick-up via drive-thru, walk-in or walk-up window—has quickly been imitated by chains like Del Taco and Burger King. While it was possible to get fast food delivered via third-party delivery apps like UberEats and Grubhub before the pandemic, it's now even more widespread. To illustrate how quickly things change, one chain that swore it'd never partner with a third-party app to deliver its food (*whispers* Jimmy John's) has since changed its mind.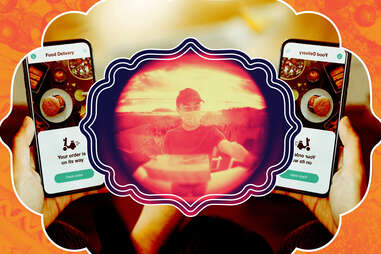 The safety of both the food and the guests remains important, but worker safety is complicated.
Chains have instituted new standards to keep your food safe when it's delivered from third-party apps, including sticker seals on paper bags filled with burgers and fries. Things have changed inside restaurants too.
"We have guided all restaurant teams to take additional safeguards like conducting daily deep cleanings of the entire restaurant and putting an emphasis on high-touch areas throughout the day," said Carl Loredo, Chief Marketing Officer at Wendy's. "As part of these table stakes measures, we are also continuously reinforcing our strict food safety procedures, personal hygiene standards, handwashing requirements, and sanitation protocols."
Fast food employees in charge of implementing these new safety procedures and standards are frontline workers like those who work at grocery stores and hospitals. Worker safety at fast food chains has been an issue—a third of In-N-Out workers at two Colorado locations tested positive for COVID-19. And after multiple positive tests at a Freddy's location in North Carolina, workers protested and received 10 days paid sick leave if they got COVID as well as one day paid leave for coworkers to get tested.
Some chains issued hazard pay, but according to Civil Eats, most hourly increases were temporary despite the ongoing pandemic. Fast food sales have remained strong, but the changes employees have asked for—higher pay and safer working conditions—are not standard. In January 2020, fast food workers went on strike in major cities to encourage legislation that would pass a $15 minimum wage and affordable health care. In January 2021, Democrats pushed to raise the wage to $15 for all workers, but the legislation didn't end up going anywhere.
Technology will drive the a post-pandemic fast food industry.
Remember when tracking your pizza being made and delivered seemed futuristic? Buckle up.
"McDonald's purchased Dynamic Yield—a company they acquired to do predictive ordering," Hottovy said. "That's where a lot of the advancements will come. Technology isn't just about ordering through a mobile phone or a [food delivery app]—it will change everything about every operation within the restaurant."
Imagine your next trip to the drive-thru, where you see a menu (powered by machine learning) highlighting items based on a couple factors. "After you put your order in, the menu might ask if you'd like to order this because you ordered it last time?" he said. Hottovy said that the chain would know what you ordered last time because you have their app on your phone, or because your license plate number was stored, a feature that straddles the line between convenient and creepy.
Taco Bell's new, reimagined Go Mobile restaurant (with five-plus locations open and more to come) shows how important technology has become to the fast food eatery of the future. It features a smaller dining room, but an added second drive-thru lane for mobile-pick up orders only. There's also an option to order curbside pick-up via tablet. Restaurants of the future will also have kitchen technology behind the scenes—burger-flipping robots have already been installed in a few White Castle locations and DoorDash recently acquired a salad-making robotics company to get greens to your door quickly.
"The restaurant space has been reluctant to adopt technology—it's taken them this long to get mobile ordering for delivery," Hottovy said. "With such a seismic shift in the business model, [chains] are going to be much more open to new technologies. You'll see it happen pretty quickly in the restaurant space."