Here's the Surprising Amount Alec Baldwin Gets Paid to Impersonate Donald Trump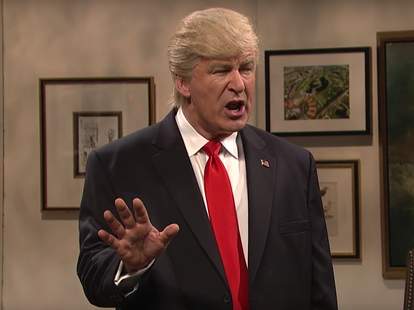 Screengrab NBC/Saturday Night Live
Alec Baldwin's Donald Trump impersonation might have been the best of many throughout election season. NBC obviously liked it, because they've kept Baldwin around to continue lampooning the founder of Trump Steaks. However, Baldwin getting paid less than you might think, even with good ratings coming in during his appearances.
According to the New York Times, Baldwin gets paid $1,400 for each Saturday Night Live appearance as Trump. That might not seem like all that much considering the praise Baldwin is getting for the role and the way it stokes Trump's ire. But with many appearances this season, it ought to be adding up for the actor. 
Just tried watching Saturday Night Live - unwatchable! Totally biased, not funny and the Baldwin impersonation just can't get any worse. Sad

— Donald J. Trump (@realDonaldTrump) December 4, 2016
The payday isn't bad considering Baldwin told The Times it's a pretty quick process to get dressed for the role. It takes about seven minutes to "dust on" the orange Clinique Stay-Matte powder in honey, toss on the wig, and get those goofy eyebrows set.
Baldwin also divulged that it no longer takes him long to get into character. "I see a guy who seems to pause and dig for the more precise and better language he wants to use, and never finds it," said Baldwin. "It's the same dish — it's a grilled-cheese sandwich rhetorically over and over again."
Baldwin plans on continuing to do his Trump bit on SNL, but his upcoming film schedule might make appearances less frequent.
h/t THR
Sign up here for our daily Thrillist email, and get your fix of the best in food/drink/fun.
Dustin Nelson is a News Writer with Thrillist. He holds a Guinness World Record but has never met the fingernail lady. He's written for Sports Illustrated, Rolling Stone, Men's Journal, The Rumpus, and other digital wonderlands. Follow him @dlukenelson.