Here's How Much It Actually Costs to Have a Dog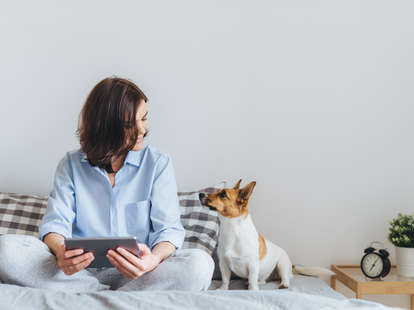 shutterstock
shutterstock
You don't just get a dog: You invest in a dog. Granted, you're investing in a pet that may or may not protect your yard from deer, and that likely doesn't understand the concept of the ocean, but it's pretty much guaranteed to be a delightful experience. But it is an investment. And investments mean money -- possibly even more than you realize.
According to a new study from Rover, most people think a dog will cost them a mere $26-$75 per month. But that figure is actually more like $153 per month. In fact, food alone can cost between $40 to $60, plus other expenses like flea and heartworm prevention, which really add up when coupled with the treats and toys you splurge on without thinking about it.
But in addition to these monthly costs, Rover points out that there are also annual expenses and one-time expenses to consider. Those one-time expenses can cost up to $1,487 and include things like adoption fees, neuter surgery, and vaccinations. The annual expenses can run up to $730 for the dog's yearly exam and pet insurance. In other words, if you want your dog to be well (and it's basically you're son/daughter now so you want that more than anything in the world) you're probably going to be spending a lot of money.
This only covers the cost you can predict, though. There's also the category Rover calls "potential pet expenses" to consider. This includes things like emergency vet bills, teeth cleaning, and pet sitting while you're on vacation -- all of which can add up to another $1,000. This brings the total estimate for the cost of getting a dog to $3,370. Check out the full breakdown to see all the expenses in more detail, but if you're looking to explain to the most reasonable child ever to live why you can't get them a dog right now this will help.
On the other hand, but if you work for a pet-friendly employer, you'll be able to bring that dog to work, which will make all the overtime you do to afford your dog suck way less.
Sign up here for our daily Thrillist email and subscribe here for our YouTube channel to get your fix of the best in food/drink/fun.