This Map Reveals How Much the Average Person Spends Per Year in Each State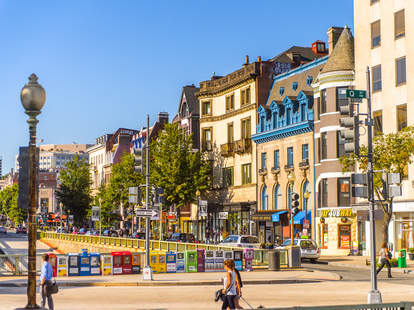 Even if you manage to score a sweet spot in one of the most underrated and affordable cities in the United States, it's still impossible to escape the day-to-day expenses that will inevitably stack up over a given year. But just how much are people spending individually per year to live in each state? And where should you move if you want to pocket the most cash after paying for everything from fuel to fun nights out?
Lucky for you, the folks at HowMuch mapped the latest per capita personal consumption expenditure stats from the US Bureau of Economic Analysis to reveal just how much a person can expect to spend every year -- on average -- to live in a given state. 
To determine the latest figures, the Bureau of Economic Analysis tracked the year over year change in personal consumption costs for everything from housing, healthcare, and utilities to gasoline and food/meals out. According to the data, people in Washington D.C. spend the most every year at $56,800, while Mississippians shell out the least at $30,200 annually. Of course, expense levels vary dramatically from state to state and region to region, but one takeaway is clear: living in New England is really freaking expensive relative to the rest of America.
These are the top 10 places where Americans spend the most, ranked from least to most expensive:
10. Hawaii -- $45,123
9. New York -- $46,906
8. Vermont -- $47,648
7. North Dakota -- $48,225
6. Connecticut -- $48,497
5. New Hampshire -- $48,810
4. New Jersey -- $48,972
3. Alaska -- $49,547
2. Massachusetts -- $51,981
1. Washington, D.C. -- $56,843
Besides proving that you're going to need quite a bit of money to get by anywhere in America, this intel reveals some other interesting trends. As HowMuch points out, not only does the data provide a high-level view of a given state's economy (higher than average spending signals a stronger economy), but it tracks with the way states voted in the 2016 presidential election, at least east of the Mississippi River. Specifically, every state with an average individual expenditure of $41,000 or more voted for Hillary Clinton, while every state with an average individual expenditure below $40,900 voted for Donald Trump.
Sign up here for our daily Thrillist email and subscribe here for our YouTube channel to get your fix of the best in food/drink/fun.