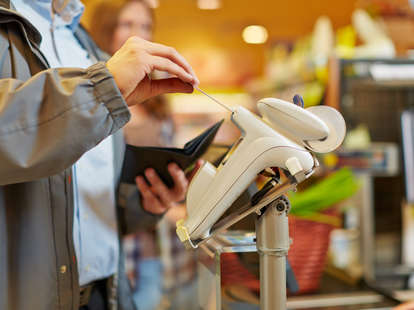 It's easy to let your eyes glaze over when an old-timer starts ranting about how much cheaper things used to be "back in the day." However, if you actually take a deeper look at just how much more expensive certain fundamental goods and services are now versus 20 years ago, it's actually pretty jarring; particularly, when you can see it presented as dramatically as it is in this new chart.
The chart, which was put together by the folks at personal finance site HowMuch, illustrates how much prices for everything from TVs to health insurance has changed in the last two decades. Specifically, it conveys how insanely expensive certain things have become, relative to a modest boost in average earnings. In other words, if you're feeling overwhelmed by the cost of living as it is in 2019, this is not going to make you feel any better. Sorry.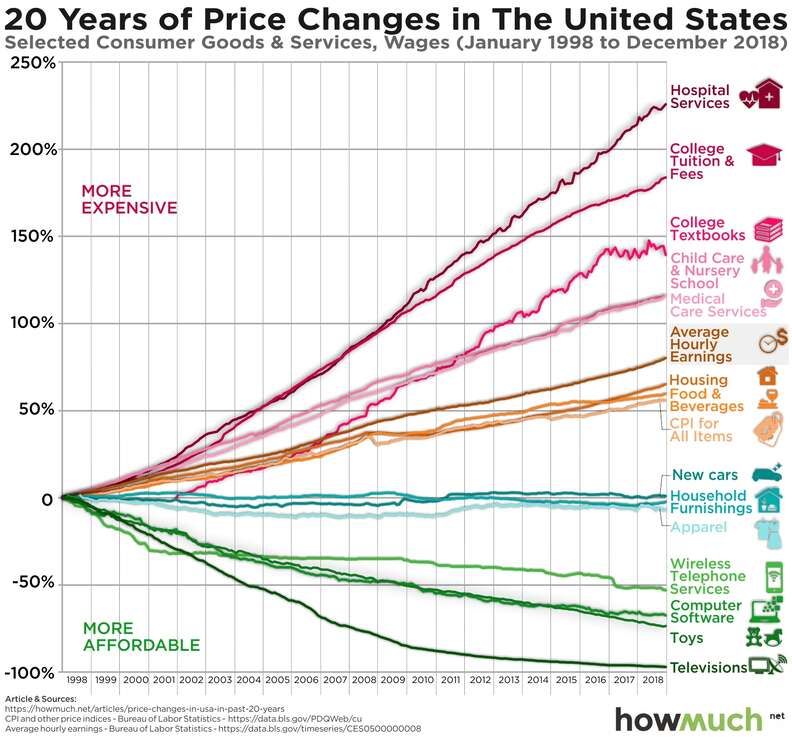 The data used in the chart was pulled from the US Bureau of Labor Statistics, which keeps a detailed record of consumer goods prices and average hourly earnings, and the figures used account for inflation. The HowMuch team used 1998 as the benchmark and then plotted the changes in prices and earnings for each subsequent year to provide a revealing look at what sort of things have gotten more expensive, what's become more affordable, and what prices have remained relatively the same.
Notably, average hourly earnings have ticked up 75% in the last two decades, roughly in line with prices for housing, food, and beverages during the same time period. The cost of cars, clothing, and furniture have remained pretty much the same. However, it's pretty startling to see the meteoric rise in healthcare and college prices. Hospital services are a whopping 225% more expensive than they were around the turn of the century, while college tuition and textbooks are up an astonishing 183% and 140%, respectively. It's not just that these things are generally more expensive now, but rather that they've become insanely hard to afford for people in the modern middle class.
On the brighter side, some things have dropped considerably in price. Televisions, for instance, have dropped 97% in the last 20 years, along with cell phones and computers, which have seen a steady drop as well. You can thank advances in technology for making all of those products not only cheaper, but much, much better.
Still, it's tough to feel super stoked that the mini computer in your pocket and flatscreen in your living room are super cheap now now when you're up to your eyeballs in school debt and medical bills.

Sign up here for our daily Thrillist email and subscribe here for our YouTube channel to get your fix of the best in food/drink/fun.