How to Get the Most Out of FaceTime While You're Social Distancing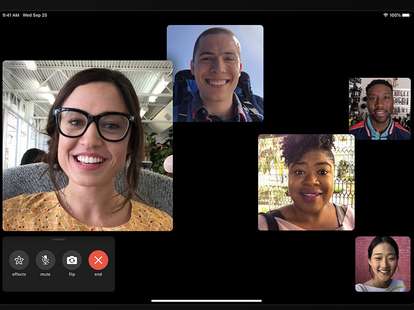 Courtesy of Apple
Courtesy of Apple
Now that government officials are closing restaurants and urging everyone to practice social distancing, chances are you aren't going out with your friends any time soon. You might not visit your family for a bit. Of course, that doesn't mean you can't stay in close contact with the people you love, thanks to various video calling services out there such as FaceTime.
While there are a bunch of video calling options out there, FaceTime is built right into your iPhone, iPad, iPod Touch, or Mac, which makes it easy to use and convenient for talking to people who have those devices. That's why you'll probably end up spending a bunch of time using it to stay in touch with people these days. It's ubiquitous.
To use it, just make sure it's turned on in your device's Settings app. Enabling FaceTime allows you make calls with both your Apple ID and your phone number, just like you can with Messages. You're good to go after that.
How do you Group FaceTime?
One-on-one FaceTime works well, but it took Apple a while to figure out how to make it work with groups. The relatively new Group FaceTime feature lets you virtually hang with your friends fairly seamlessly.
The easiest way to start a Group FaceTime call is to open an existing group chat in the Messages app, tap on the group of contacts you're talking to at the top of the screen, then hit the FaceTime icon. This will add everyone in the group chat to the video call. If you need to add others from there, just swipe up, tap "Add Person" and enter their info.
If you want to leave the call, hit the red button towards the bottom-right of the screen. You can even leave, then rejoin the call if it's still going, which could be useful if you need to do something on your end for a moment and temporarily can't talk. To rejoin, just go back to the group chat in the Messages app and tap the button among the messages to call back in. and -- boom -- you're with everyone as if you'd never left. The above video from Apple shows how this looks.
Wait, so how many people can FaceTime at once?
Apple currently caps Group FaceTime calls at 32 people, which is... a lot of people! You can likely include your close family, extended family, and even a few friends should you need to and it'll work. But that doesn't mean it'll be a calm and orderly experience free of people trying to talk over one another, so maybe maxing out the call isn't a great idea if you're just hoping to hang out for a bit.
Can you Group FaceTime on a Mac?
You can also Group FaceTime from your MacBook or Mac desktop computer, but you'll need macOS Mojave 10.14.3 or later for it to work. To make a call, you'll open up your FaceTime app, search for the phone numbers or email addresses you wanna add, and click call -- whether you opt for video or audio is up to you.
What effects are available? And how do you use them?
Because you're likely going a bit stir crazy (it's inevitable), why not have a little fun with FaceTime and try out some of its more unique features. If you have an iPhone X or later, iPad Pro 11-inch or iPad Pro 12.9-inch, you can access Animoji and Memoji during your call. There are additional camera effects, as well, so you can add filters, text, and shapes while on Group FaceTime.
What are some other options for group video calls?
Sure, FaceTime is super easy, but it's far from the only option for group video calls. In fact, some platforms with video call features like Facebook Messenger are seeing upticks in usage now that social distancing is keeping people apart IRL. Check out our list of several additional group video call apps you can use to stay connected.
Sign up here for our daily Thrillist email and subscribe here for our YouTube channel to get your fix of the best in food/drink/fun.
Megan Schaltegger is a staff writer at Thrillist.