Instagram Will Finally Let You Hide Your Posts Without Deleting Them
If you have some embarrassing, overly edited, or otherwise questionable Instagram posts from, say, back in 2011, then you're certainly not alone. Everyone went crazy with the X-Pro II and Sutro filters, and those terrible border frames. That's probably why the company is introducing a new feature that lets you hide your posts without having to delete them forever. Finally.
As a report by TechCrunch explains, Instagram is currently testing out an "archive" function that allows you to easily hide any of your posts, keep the hidden photos organized in a separate archive section where only you can see them, and un-hide the photos so they reappear on your profile at any time. In other words, you'll no longer have to risk regretting your decision to delete a photo that's not getting enough likes or a memorable photo that's embarrassing but also worth holding onto. You can just archive them instead.  
So far, Instagram is only testing the "archive" feature, so only some users will see it as an option in the app. The company will roll out the new feature to more users as it continues to develop and expand it. When reached via email on Tuesday, a spokesperson said, "We are always testing new ways to improve the Instagram experience."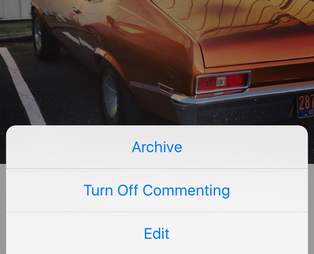 Instagram
If you're among the users included in the current test, a new option labeled "archive" will appear when you tap the "..." three dots button in the top right corner of an individual photo post. All you have to do is tap that option and the photo will only be visible to you in a new section of the app that's marked by a clock and arrow symbol in the top right corner of your profile screen. From there, you'll be able to select a photo to want to make public again by hitting the same "..." menu button, then tapping "show on profile." The whole process is just as easy as deleting a post.
All said, there's finally a reversible way to remove photos that aren't getting likes, or to rethink posts you may regret sharing with all of your followers, or maybe just to reduce the absurd number of food and vacation photos visibly on your profile. Oh, and it may come in handy when you want to hide old photos of you and your ex, but aren't emotionally ready to delete them outright yet.
Sign up here for our daily Thrillist email, and get your fix of the best in food/drink/fun.
Tony Merevick is Cities News Editor at Thrillist and might have to go through some of his old posts from college now. Send news tips to news@thrillist.com and follow him on Twitter @tonymerevick.