There are many reasons you might wish to delete your viewing history on Netflix. Maybe you're getting weird recommendations because you had house guests who scheduled a marathon viewing of the Die Hard series while you were at work. Maybe you've got kids. Maybe you just don't want your roommates to know you are re-watching Gilmore Girls, again.
Whatever the reason, it's possible to erase your viewing history on Netflix. Here's how you do it. 
1. Log into your Netflix account.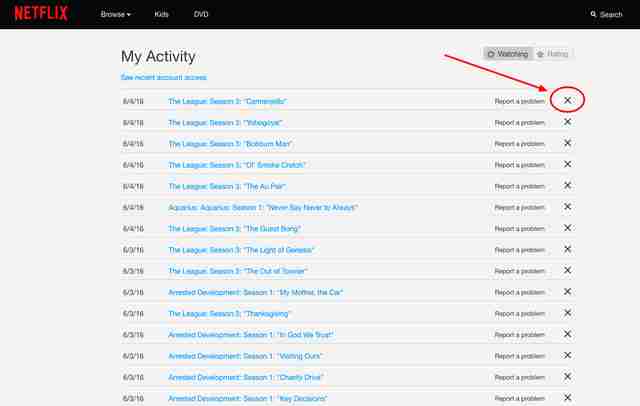 2. Head over to Netflix.com/WiViewingActivity. There you'll find a list of all viewing activity on your account. If you share an account you might find, say, a younger brother's viewings of The League, your dad testing out Aquarius, and your own late-night determination to re-watch all of Arrested Development. 
3. Click the "X" next to the show or movie you want to delete. The line item will turn grey and you'll need to click a link that says "Remove Series?" This removes the selected item from both the  "Viewing Activity" and "Continue Watching" areas on your account. 
Word of warning: If you're trying to delete a single episode because you got an episode ahead of someone you watch a show with, it doesn't work like that (though, you can stop Netflix cheating with these rings). By deleting one episode, you delete the entire viewing history for that show. If you're looking to delete evidence that you just binge-watched Fuller House, well, then you don't have to delete 13 separate episodes. Delete one episode and all the evidence will evaporate.
4. Carry on. It can take up to 24 hours for the show to be removed from your history, but it's on its way to being scrubbed. The only drawback is that it's a permanent measure. If you delete your history of watching a show, you can't put it back into your viewing history to remember what episode you were on. Like Community, you can hope it's coming back, but it's gone forever.