How Possible Is Moving to Canada if Trump Becomes President?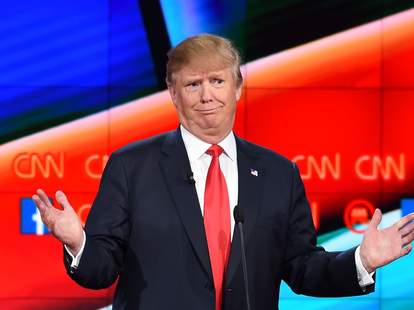 Regardless of how you -- or Mitt Romney, for that matter -- feel about Donald Trump, the blistering rhetoric-fueled Trump train has chugged full steam to the Republican nomination; while it's still unclear as to how he'll fare in the general election this November, the specter of a President Trump is scaring (or angering) the crap out of enough Americans that many are threatening to move to Canada.
In fact, in the hours surrounding the abrasive billionaire's Super Tuesday victories, the Google search query "How can I move to Canada" skyrocketed by 1,150%, its highest level in the search engine's history, according to a report by Mashable. Trump's success has even given rise to whole websites dedicated to luring Americans to pack up and GTFO. But is fleeing north over the border and legally emigrating to Canada even a realistic option? Well, to put it one way, enjoying Canada's vast and stunning landscapes, delicious poutine, and liberal-leaning government is a lot harder than just a quick Google search.
It's not as easy as you'd think
Sure, Americans and Canadians enjoy fairly easy travel across borders, but some experts warn that legally and permanently emigrating to Canada just because you don't want to live in the US anymore will likely be difficult, and in some cases, not likely at all. But if you're what Canada is looking for in an American migrant, it's possible. As explained in a report by The New York Times, Canada favors prospective immigrants who fit into two categories: students in higher education and people who are skilled in certain professions outlined in the North American Free Trade Agreement (NAFTA). 
"Sometimes I've had Americans who feel that they can just drive across the border," Vancouver-based immigration lawyer David Aujla told the Times. "It comes as a surprise to them, 'Oh what do you mean, I have to qualify?' Yes, you do have to qualify." And as it turns out, just dealing with all of the red tape in the process of building up the residency requirements, even while holding a temporary status in Canada, could take longer than a Trump presidency, according to the report. All the delicious, gravy-drenched fries in Canada might not be enough to outweigh the headaches from the endless paperwork.
Again, it's not impossible. But it's not gonna happen overnight.
Shutterstock
Make sure Canada is the right fit
Before you even bother looking at details on the immigration process, you should visit Canada to figure out if you'd actually like it there. Things to consider: how good the pizza is; whether or not you enjoy the constant friendliness of Canadian people; your willingness to pick up strange customs like saying "about" differently and apologizing all the time; the weather. But if anything, the food should be enough to win over your deep-fried American heart, considering uniquely Canadian delicacies like Montreal bagels, BeaverTails, and of course, poutine. But, really, you should ask yourself if you're ready to live in a place where the winter seems to last forever -- something no amount of poutine can soothe.
Now would be a great time to figure out potential places to live in Canada, since it's only second to Russia in terms of landmass, and includes 10 provinces and three territories.
But you'll probably just end up in Toronto.
 
Find out if you qualify, and how long you can stay
While united against Trump, not every American planning to flee to Canada will face the same circumstances. If you're dead-set on getting out of Dodge, well, consider a Ford (car joke!). But really, head over to Canada's helpful immigration website, and research the shit out of your potential move. The site even includes a tool that helps you determine if you're eligible. Additionally, the site clearly outlines all of the many eligibility requirements you'll have to meet to someday call yourself a Canadian; for example, you must demonstrate to immigration officials that you're fluent in at least one of its two official languages, English and French, to obtain permanent residency.
There's also the option (among others) of living temporarily in Canada, perhaps until the end of a Trump presidency, by getting a job with at a Canadian employer via the country's Temporary Foreign Worker program or attending a graduate school in the country. That way, you'll score a temporary work visa that's good for four years (and, unfortunately, not renewable), which just happens to be the length of a presidential term, according to a report by The Daily Dot. Obviously, you'll have to do additional research on what and where you'll study, but the government at least makes it easy to find out what types of workers are in demand in each province, like this immigration site for British Columbia. 
Once you've done the necessary research and figured out what you want to do, the next step is to start filling out the forms, which are also available on the immigration website. At this point, you might also want to look into hiring an immigration lawyer to make sure you get it right the first time.
With any luck, you'll be able to watch a Trump presidency unfold from a liberal colony of American ex-pats, you goddam quitter.
This post was updated on 5/5/2016 to reflect Trump's primary victories and Ted Cruz dropping out of the GOP race.
Sign up here for our daily Thrillist email, and get your fix of the best in food/drink/fun.
Tony Merevick is Cities News Editor at Thrillist and wonders how many people would actually go through with this. Send news tips to news@thrillist.com and follow him on Twitter @tonymerevick.