The 6 Things You Should Actually Do Before Winter Storm Jonas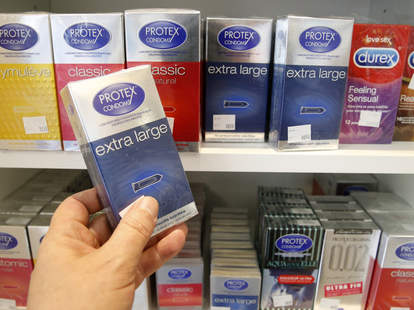 Winter Storm Jonas is expected to open an ice-cold can of whoop ass on the East Coast this weekend, starting with the Washington D.C. area on Friday afternoon and potentially pummeling NYC throughout the day on Saturday. Current forecasts and weather advisories call for at least a foot of snow in much of the region, and even dangerous blizzard conditions in some cities, which could easily ruin your whole damn weekend. That is, unless you plan ahead.
Sure, it's possible that the storm might not end up being as bad as the weather hype machine said it'd be, but why not take a few easy steps to prepare yourself in case civilization crumbles under the snow (or something like that)? Either way, you'll more than likely end up spending a lot of time indoors this weekend, which means you should drop everything you're doing right now and make sure you've got what you need to make it even remotely bearable -- if not fun.
1. Stock up on booze and food, and more booze
This is crucial, people. If you're planning on hiding in your apartment all weekend, then you'd better make sure you've got plenty of booze to help keep you warm and, well, sane. Now's probably a good time to invest in a decent bottle of whiskey or maybe a couple of those cheap oversized bottles of red wine -- or whatever's going to help make spending the day in your precious little space suck less. Being prepared means rolling out of bed and sipping a mimosa while the first flakes fly.
Stocking up on food, too, is critically important, unless you're a monster and plan on having delivery people trudge through the ice and blowing snow to bring you pizza and General Tso's Chicken (in which case, you'd better tip well). But if you want to enjoy things like bananas, fresh-made pizza dough, or even a flake of kale this weekend, now's the time to get off your ass and get to the grocery store... before Trader Joe's devolves into an at-capacity basket-kicking bloodbath, like last year. Easy essentials like frozen pizza, sandwiches, and pre-made foods that require little to no cooking are recommended. Bottled water is probably another safe bet. Oh, and don't forget pet food, if you need it. Especially if you have pets.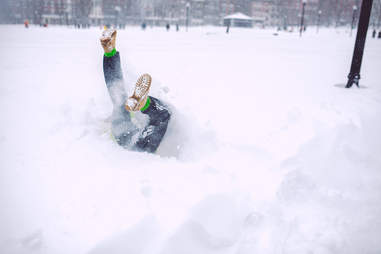 <a href="http://www.shutterstock.com/gallery-2277941p1.html?cr=00&amp;pl=edit-00">Svitlana Pimenov</a> / <a href="http://www.shutterstock.com/editorial?cr=00&amp;pl=edit-00">Shutterstock.com</a>
2. Figure out what to do all day
Just because the sky is falling and the entire city is grinding to a halt doesn't mean you should let your whole Saturday go to waste. Potential activities should include the aforementioned eating and drinking, as well as napping, watching the Weather Channel reporters get pummeled by wind and snow on live TV, and truly redefining what it means to "Netflix and chill." Get it? If you really want to go hard, you can do all of the above and clean your apartment, get started on your taxes, and work on that new job search you've been putting off for weeks. 
Mind you, these are all just suggestions, so you can by all means just play with yourself all day. There, we said it, OK?
3. Plot out places that are usually crowded
If you just can't cope with being holed up inside your apartment all day, Saturday should be a great day to enjoy places that would otherwise be too crowded for comfort. This should be easy -- think museums, or the restaurants and bars in your neighborhood that are always so infuriatingly packed to the point of you even dreaming of setting foot in them under normal circumstances, because ugh. With that said, you should probably check their websites and call ahead to make sure they're open before you climb into your Gore-Tex.
Of course, even setting foot outside will depend on how bad it actually gets out there and your ability to scrape yourself off your couch and into the tundra.
shutterstock.com
4. Find someone to cuddle with
It's practically against the law to go through a major snow storm or blizzard without snuggling up under a zillion blankets with your significant other, or if you're single, an attractive and willing cuddle buddy. As with previous storms, a shitload of people will be online posting, swiping, messaging, and probably -- hopefully -- meeting IRL to help "keep each other warm" or whatever the hell you want to call having sex all goddam day. 
Literally cuddling up with someone is nice, too, but if that's not in the cards, hanging out with your roommate(s) and a few friends can't hurt, especially if you're willing to share all that booze you just bought. Sure as hell beats shoveling.
5. Stock up on condoms
Should you be lucky enough to, uh, ride out the storm having sex, it's on you to add the necessary provisions -- condoms, lube, and whatever else you need to make it fun and safe -- to your shopping list, so that whoever you end up hooking up with doesn't travel through the cold and snow to find you tragically unprepared. That's not sexy at all. And as always, you guys, be safe out there... or, as it would be, in there. 
6. Knock out chores
Chores don't sound like fun, but what we mean to say is there are plenty more things you can do that could end up making Winter Storm Jonas more bearable. Food, booze, and entertainment are no-brainers, but what about clean underwear? With well over 24 hours before the storm hits (if you're in NYC), you've got plenty of time to run a few errands and get your shit together.
For example, now would be a great time to get your laundry done so that 1) you've got plenty of clean, warm clothes for the weekend, and 2) you can sail into the next work week with your full wardrobe. Stopping at the bank, sending what little if any physical mail you've got, and taking out the trash -- to prevent your apartment from smelling -- could also be easy, but helpful measures to take... while you still can.
Sign up here for our daily Thrillist email, and get your fix of the best in food/drink/fun.
Tony Merevick is Cities News Editor at Thrillist and is actually looking forward to spending the entire day in bed and watching the snow fall. Send news tips to news@thrillist.com and follow him on Twitter @tonymerevick.