How to Change Your Settings to Prevent Facebook From Sharing Your Data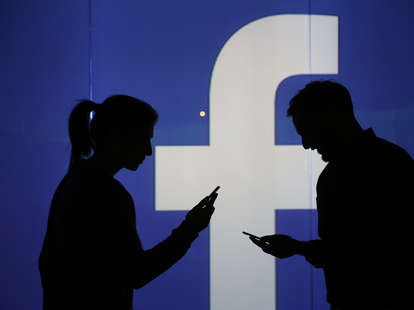 Chris Ratcliffe/Bloomberg/Getty Images
Facebook is in a bit of hot water, to put it mildly. The social media behemoth has come under fire in recent days for allegedly allowing the data analytics company Cambridge Analytica to access millions of users' data without their consent. Understandably, the backlash to this massive breach of privacy has been heated and swift, so much so that the #deletefacebook movement has been picking up serious momentum.
Many argue that the only way to truly protect yourself from being tracked and having your data mined for potentially nefarious purposes is to extricate yourself entirely. However, Facebook has become such an integral communication tool for so many of us that not using it is simply not an option. Fortunately, it's not necessary to pull the plug completely in order to ensure your data is kept more secure in the future. Tweaking a few simple settings can prevent third-party entities from gaining access going forward. There are also a few things to do to protect yourself from friends on the site who may be inadvertently sharing your data far and wide. Here's what you need to know.
How to prevent third parties from getting your data
Facebook's platform API (aka its application program interface, the software interface that allows other apps to integrate with it) is designed to let other third party apps collect, share, and store your data. Because of this fact, it's accurate to say that the Cambridge Analytica incident was not actually a data breach, but rather an exploitation of Facebook's existing infrastructure, which allows third party apps to obtain tons and tons of user data. However, what you probably didn't know until now is that you can disable it from doing so.
To do this, log in to your Facebook account, and head to Settings. From there, tap Apps on the left hand side and scroll to locate a gray box labeled Apps, Websites and Plugins. Tap Edit. But before you click Disable Platform, you may want to consider the implications of doing so. By restricting third party access to our data, this means you'll be disabling all platform apps including things like Instagram, Tinder, Airbnb, and Twitter. You also will no longer be able to log into sites using your Facebook account. Still, if you want to fortify your data privacy without giving up your Facebook account altogether, this is a big way to do so. For a slightly less drastic method that still protects a lot of your data from being shared, keep reading.
How to keep your friends from inadvertently sharing your data
As much data as third party apps are able to obtain directly from you, much of what's available to them regarding your behavior, interests, and other related intel comes from your friends' data. Generally, whatever info someone can see about you on Facebook is data that user brings with them while using other apps, meaning those tidbits about you are then shared with those apps. The good news is that you can restrict the kind of information that others' apps can use.
To do this, head to Settings, tap Apps, and scroll to find the grey box labeled Apps Others Use. Tap Edit, and go through and check or uncheck each category of information to suit your preference.
Sign up here for our daily Thrillist email and subscribe here for our YouTube channel to get your fix of the best in food/drink/fun.