The Moon, Mars, Jupiter & Saturn Are Together in the Sky For the Last Time Until 2022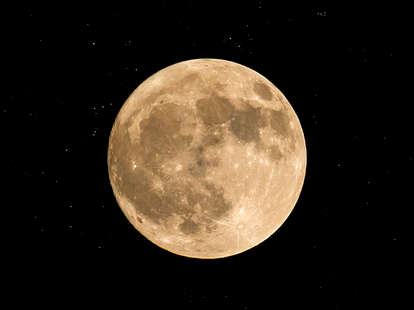 Don't be lulled into believing that the sight is a regular thing just because it happened last month. Mars, Saturn, Jupiter, and the moon are going to have a get-together in the sky this week, and it's not going to happen again for more than two years.
The group of orbs won't be quite as tight as it was in March, but they'll still be pretty close together starting the night of April 14 when the moon appears on the righthand side of Jupiter. The following night, you'll be able to see the moon plop down in the middle of the group. April 16 will be the final night you'll see them gathering, as the moon moves to the left of Mars.
To see them, you'll want to look to the southeast an hour before sunrise each day. Though, they'll be pretty easy to spot at the time. The three planets are relatively bright, but they'll be joined by the moon. So, you know, just find the moon.
Not only is it going to be a while before you see all four together again, but you won't even be able to spot Mars, Jupiter, and Saturn congregating until the middle of 2022. That makes the view pretty special. It's a nice prelude to the Lyrid meteor shower next week.
Sign up here for our daily Thrillist email and subscribe here for our YouTube channel to get your fix of the best in food/drink/fun.