April Is a Great Time to Spot Venus in the Night Sky. Here's What to Look For.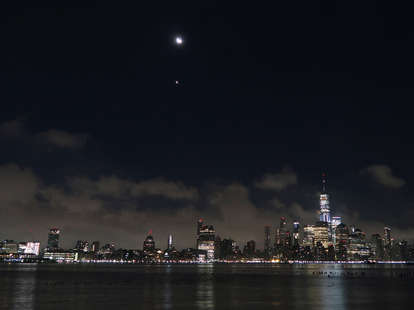 March brought many opportunities to see the interplay of Saturn, Jupiter, and Mars in the darkness just before dawn. Similarly, April will offer a host of ways you can enjoy a planet with the naked sky. Except, this time, it's going to be Venus.
The planet is the brightest object in the sky this side of the moon and sun. Throughout the month, you'll be able to see it shining brightly in the western sky around sunset. In fact, it's so bright that you'll be able to spot it while the sun is still going down if the weather cooperates.
Early in the month, you'll find Venus passing through the Pleiades star cluster. It'll sit right in the midst of the Pleiades on April 4. After that, it'll start moving away from the "seven sisters," but can still be seen nearby for a couple of nights.
By April 26, you'll see the second planet from the sun pair up with the crescent moon, an opportunity to see the two brightest objects in the night sky getting social. Though they'll still be separated by seven degrees -- not close to the appearance of touching -- it'll still be a special sight in the west-northwest sky. It will be the last time they come together before Venus changes shifts to morning appearances instead of the evening. That'll take place in June, per EarthSky.
At the end of the month, Venus will shine brighter than at any other point this year. You'll hear that night referred to as the planet's "greatest illuminated extent." The absolute brightest point will come the night of April 27, but the planet will be plenty bright in the nights around that. It might be hard to tell the difference in brightness between those days with the naked eye.
Additionally, if you go out with a telescope, you'll see the planet's diameter increasing as the illuminated portion of the planet decreases throughout the month, revealing Venus as an illuminated crescent. Though it goes against what you might think otherwise, the best time to see the crescent, per Space.com, is while the sun is still up. Viewed through binoculars or a telescope, you should get a great view of the crescent shape. When night falls, the glare of the planet will likely obscure the shape.
It's an easy way to get out and enjoy the night sky, even if you live in a bigger city. With a beer in hand, it's a decent temporary replacement for the bars you wish you could go to right now.
Sign up here for our daily Thrillist email and subscribe here for our YouTube channel to get your fix of the best in food/drink/fun.