This Much-Needed App Matches Your Selfies With Museum Paintings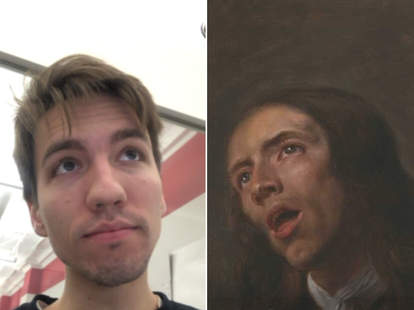 Google Arts & Culture -- James Chrisman
If you're a person-about-the-internet, you've been seeing diptychs of your friends next to stately oil paintings. The resemblance may be uncanny, or they may just both have a mustache, but either way it looks like a great time and you're probably feeling left out of the zeitgeist.
But, look, this isn't gaining admittance to the École des Beaux-Arts. All you have to do is download the Google Arts and Culture app, scroll down till you see the section that says, "Is your portrait in a museum?", click "GET STARTED," and follow the instructions, which are easier than paint-by-numbers.
While it's only now taking over all your feeds, the Google Arts & Culture app has been around since 2016. This face match feature, however, was added in mid-December and has since been marching toward social media dominance, reaching the No. 1 slot for free downloads in the app store.
Exactly how the face match app works is a bit mysterious, but basically it compares your selfie to works of art from 1,200 museums in over 70 countries and finds the closest match it can, with varying degrees of success. To do this, it makes a "faceprint" of your unique attributes and compares that to the faceprints in the portraits.
Crucially though, it doesn't go for an identical face. Instead you're given a percentage of how close the pairing is. We weren't able to break above a 50% face match, and you may find yourself next to some fairly unflattering faces. Fortunately, though, the app gives you a selection from which you can choose the pairing most aligned with your personal brand, exactly as the old masters intended.
As of now you won't be able to upload a picture of yourself; it must be a fresh selfie. You're also able to take a photo of a photo, which would be très postmodern and arty and is therefore totally acceptable. Also try making different expressions to shake up your matches, since the app's best results tend to come from the most extreme pictures. You know, express yourself.
If you're paranoid about just giving Google your selfie, know that Google says it only has access to the picture for the time it takes to search the database and won't use your photos for any other purposes. If you are paranoid, Google's word probably means little to you though.
There's also been frustration over lack of access to the new feature, with many downloading the app only to find that it's unavailable in their region. Per a Google tweet, the "mobile experiment" is only available in certain parts of the United States. They added, "Stay tuned as we try to improve and expand."
In the meantime, you'll just have to enjoy the celebrity face matches below:
Sign up here for our daily Thrillist email and subscribe here for our YouTube channel to get your fix of the best in food/drink/fun.


James Chrisman is a News Writer at Thrillist who most closely resembles
Nude Descending Staircase No. 2
. Send news tips to news@thrillist.com and follow him on Twitter @james_chrisman2.