Here's How You Can Support Indigenous American Communities This Thanksgiving
There are so many ways you can get involved where you live and travel.
Hundreds of years too late, non-Indigenous people have finally started acknowledging the harsh realities of colonization in the Americas. Federal holidays like Columbus Day and Thanksgiving make light of settlers' racism toward Native Americans and genocide of Indigenous tribes after arriving here from Europe.
Indigenous Peoples' Day has emerged over the past few decades as a counter-celebration to Columbus Day—honoring the history and culture of Native American people instead of a man who brought them harm—but Thanksgiving Day is still widely recognized as a joyful time for family, friends, and feasts.
Of course, the happy tale of togetherness that children are taught in school isn't the most accurate chronicle of what happened. There are conflicting accounts of what transpired during the famously depicted First Thanksgiving, but we can't say that it was a joyful affair for all, or that it was representative of peace and friendship between colonizers and Native Americans.
The sugar-coated anecdote of cross-cultural celebration that came to define the modern holiday glosses over the darker context of the time, when colonizers murdered American Indians and spread disease—and are said to have thrown similar "thanksgiving" celebrations after conquering Indigenous land. Only 16 years after members of the Wampanoag tribe feasted with Pilgrims, they were massacred, leading to a statement from Plymouth Governor William Bradford that for "the next 100 years, every Thanksgiving Day ordained by a Governor was in honor of the bloody victory."
Modern Thanksgiving celebrations are far removed from the genocidal actions of colonizers, focused more so on family gatherings and stuffing yourself full of food. But to celebrate the holiday without acknowledging the ongoing land theft, violence, and marginalization that Native people face from the US government is wrong. Indigenous people are still here telling their stories and it is the duty of those of us who occupy this land to listen and support them.
Whether it's supporting impactful organizations with your time or money, educating yourself on Indigenous issues of past and present, or doing some online shopping from a Native-owned business, there are plenty of ways you can use this Thanksgiving season to strengthen Native American communities. Here are a just few ideas.
National Organizations & Funds to Support
Association on American Indian Affairs (AAIA)
For 98 years, AAIA has sought to protect Native American sovereignty, steering the US government away from its assimilation and allotment efforts and helping push important legislation like the Indian Child Welfare Act and the Native American Graves Protection and Repatriation Act.
Native American Capital (NAC)
NAC promotes economic development in Native American communities. The organization consults tribes and business owners, helps secure financing for various enterprises, and aims to further advocate for Indian country in legislative and academic spheres.
American Indian College Fund
The College Fund provides scholarships and support to American Indian students so they're able to stay in school, obtain degrees, and have the proper tools to build a satisfying career.
Women Empowering Women for Indigenous Nations (WEWIN)
An organization that brings Indigenous women together to exchange knowledge, support, and resources that fuel personal and professional growth. WEWIN hosts an annual conference to further its goals and allow for networking.
earthrise
A media platform that unpacks the intersection of climate change and social justice and amplifies BIPOC voices as they relate to the climate crisis. Sign up for the earthrise newsletter to stay educated and keep up with its information-packed Instagram page.
Native American Rights Fund (NARF)
The 50-year-old organization protects the rights of Native Americans. NARF holds federal and state governments to their legal obligations, consults policymakers and shapes legislation, and ensures that American Indian tribes, organizations, and individuals have fair legal representation.
Yee Ha'ólníi Doo
This all-Indigenous, women-led grassroots, community-based organization was built from the volunteer response to help and support the Navajo and Hopi people during the COVID-19 pandemic. It has since grew into a Utah state-based nonprofit. Its primary goal is to "ensure the survivability of our people. We seek to fulfill this goal by ensuring reliable access to healthy food, bolstering the mental and emotional strength of our people, and supporting the creation of better, more human-centered systems that enable all in our communities to thrive," the org states. A GoFundMe is raising money to build community centers in Navajo and Hopi communities.
Protect Native Elders
This organization focuses on assisting, protecting, and distributing resources to Native elders. You can learn more about its work through its website, and donate to support these efforts through the Protect Native Elders GoFundMe.
Indigenous Action
This group was founded in 2001, and describes itself as "a radical volunteer crew of anti-colonial and anti-capitalist Indigenous media makers, designers, artists, writers and agitators that work together on a project by project basis for liberation for Mother Earth and all her beings." Indigenous Action supports mutual aid efforts and community projects, as well as provides critical information and resources.
LandBack
This organization's manifesto states that it focuses on "bringing our People with us as we move towards liberation and embodied sovereignty through an organizing, political and narrative framework." The "closure of Mount Rushmore, return of that land and all public lands in the Black Hills, South Dakota" is LandBack's cornerstone issue.
NDN Collective
NDN Collective's mission is composed of three pillars: Defend, develop, and decolonize. The mission statement from the group's website states: "Build the collective power of Indigenous Peoples, communities, and Nations to exercise our inherent right to self-determination, while fostering a world that is built on a foundation of justice and equity for all people and the planet." The group's current campaign is centered on climate justice.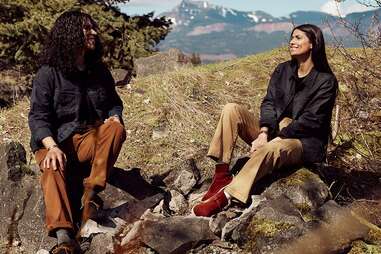 Native American-Owned Businesses to Support
Beyond Buckskin Boutique – Online
The virtual boutique blends tradition and modernity, creating an extensive inventory that goes beyond apparel to include jewelry, moccasins, and blankets, to name a few.
Tribe to Table – Online and in Montrose, California
A market with more than 60 tribe partnerships across North America. Tribe to Table sells Native foods, pet food, home goods, apparel, and pet supplies.
Beam Paints – Online
Named after the founder's family, Beam Paints spreads Indigenous art traditions through its collection of naturally sourced and handmade paints. All products are non-toxic and packaging is plastic-free. Beam Paints is based outside of US borders, but it's a close neighbor that still deserves attention.
B.Yellowtail – Online
Specializing in "wearable art," the fashion brand sells clothing, accessories, jewelry, and beauty products.
Urban Native Era – Online
A youth collective aimed at bringing Indigenous news to light through its products. The online shop includes branded clothing, posters, stickers, pins, patches, and even shoelaces.
Thunder Island Coffee Roasters – Online and in Southampton, New York
Though beans are roasted on the Shinnecock Indian Reservation in New York, the roastery ships a variety of blends in one- and five-pound increments through its online shop.
Gathering Tribes – Online
The formerly brick-and-mortar artisan shop now operates entirely online, but its selection of handmade crafts is no slimmer than before.
Eighth Generation – Online and in Seattle, Washington
Eighth Generation is a store that provides an ethical alternative to "Native-inspired" art and products through an artist-centric approach. All products are 100% Native-designed. The shop is proudly owned by the Snoqualmie tribe. In 2015, Eighth Generation became the first Native-owned business in the US or Canada to sell Native-designed wool blankets.
Medicine of the People – Online
This store offers Native American-made salves, ointments, balms, oils and more. "We hand make and send our products all over the country and to a handful of other countries as well. I believe we are the most traditional Native herb company in the country that is consistently producing high quality products and wholesaling them far and wide," the website states.
ACONAV – Online
The name ACONAV represents the "cohesion of cultures between its founders" Loren and Valentina Aragon. Loren is Acoma Pueblo, and Valentina is Navajo. The store sells clothing and accessories, with the goal of empowering women in all of their designs.
O-Gah-Pah Coffee Roaster – Online and in Joplin, Missouri
This coffee roaster came came from a decision to overhaul the coffee offered at businesses in Quapaw Nation. The Winter 2023 coffee roast is called Beaver Springs winter.
Ginew – Online
Ginew is a family business that was founded by Amanda Bruegl – Oneida, Stockbridge-Munsee and Erik Brodt – Ojibwe. The products offered by Ginew fuse "contemporary Native American style with Ojibwe, Oneida and Stockbridge-Munsee design elements in heirloom-quality garments and goods."
Cheekbone Beauty – Online
This Indigenous-owned beauty brand specializing in sustainable beauty products and circular economy business practices. The brand offers eyeliner, lipsticks, blushes, and other beauty products.
How to Support Local Indigenous Communities
Atlanta
About an hour outside of Atlanta is the Funk Heritage Center at Reinhardt University, which tells the story of early Appalachian settlers and Southeastern Indians through education and exhibitions of art and artifacts. You can, of course, visit and donate to the center but there are also volunteer opportunities for people who would like to docent, help with administrative work, or even assist with maintaining the Lou Reeta Barton Northcutt Walking Trail and Native Garden.
Austin
Unfortunately, the huge contributions Indigenous communities have made to our culture are often un-noted. Luckily, however, members of the Miakan/Garza Band, one of the more than 200 bands of Indigenous people that resided in Texas and northeastern Mexico when the Spanish first arrived, created the Indigenous Culture Institute. The organization works to preserve the culture of those indigenous to the region, as well as maintain the communities' sacred sites. Donations can be made through the organization's website.
Boston
While donating to the Massachusetts Center for Native American Awareness can help with myriad programming and events, a big focus for the center is education. MCNAA's website explains that American Indians attend post-secondary education at a rate of 17% in comparison to 60% among the total US population. The center accepts donations and outlines other ways to contribute to their work.
Chicago
The Chicago area is located on the ancestral lands of various Indigenous tribes. Informed public education and awareness building is critical to the implementation of Indigenous rights, and that is everyone's responsibility. We can learn how to best support the many nations through local organizations like the Chi-Nations Youth Council, UNITY Midwest, American Indian Center, and Chicago American Indian Community Collaborative—each doing their unique part to foster cultural awareness, and strengthen the community through activism and volunteerism, and education.
Denver
Since 1983, The Denver Indian Center has been an urban cultural gathering center for the American Indian and Alaska Native community in the Mile High City. They focus on providing programs that aim to empower families and celebrate Native culture. Volunteers can help with everything from assisting with their food bank to volunteering with elders. The Denver Indian Family Resource Center is focused on supporting American Indian and Alaska Native children and families by providing culturally responsive services. While they are not currently offering volunteer opportunities, you can support them through donations and by staying informed via their email list.
Las Vegas
Before the Vegas Strip or the Hoover Dam was even a thought in someone's mind, the Indigenous people of Nevada made Southern Nevada their home. The Las Vegas Indian Center provides services for those with Native American heritage. Donate or contact the organization about how you can get involved.
Los Angeles
Long Beach-based American Indian Changing Spirits provides a culturally relevant, community-based outreach and education recovery program focused on American Indians struggling from drug and alcohol addiction and dependency. If you have counseling experience, fill out this form to find out more about volunteer opportunities. Everyone else can make a tax-deductible donation online.
Miami
You can support the gift shop of the Miccosukee Indian Village showcasing the tribe's arts and culture. You can visit the Village Museum, which gives visitors a glimpse into the way of life of the Miccosukee tribe as they adapted to the Everglades, highlighting both historical and modern Native American, First Nations, and Aboriginal life. Plus, you can watch as brave demonstrators explain centuries-old alligator rituals with their bare hands.
Nashville
Currently, American Indians don't have any state or federally recognized lands in Tennessee and to fill this void, the Native American Indian Association is asking for funding to construct a museum and community center in Nashville that will be called Circle of Life. The proposed $1.5 million site would have an area for exhibits, a research library, a community board, and administrative offices. The building and its surroundings will all radiate out from a central circle, which is an important symbol in American Indian culture.
New York City
Dating back to 1994, the Redhawk Council is a nonprofit supporting Native American artists and art educators in the NYC metro area. The organization shares Native American heritage and culture through song, dance, theater, visual art, and more art forms. You can make a tax-deductible contribution online to contribute to Redhawk programs.
Urban Native "devotes its advocacy and support of quality accessible and affordable health and wellness services grounded in cultural humility for federal and state-recognized tribal members along with self-identified Urban natives living in the tri-state area." Urban Native works on connecting communities to housing, health, and financial resources. You can donate through the Urban Native website.
Philadelphia
By making a monetary donation to Indigenous People's Day Philly, you are contributing to the annual two-day celebration that brings Native artists to the city to tell their stories. In addition, you will be supporting future endeavors including a podcast series featuring Native dignitaries and performers and an awareness presentation series for schools, libraries, and other organizations to learn about the importance of celebrating Native American and Indigenous people's history across Pennsylvania.
San Diego
Native Like Water, a campaign of InterTribal Youth and a program of One World BRIDGE, educates Indigenous youth and adult volunteers in science, outdoor education, conservation, wellness, and cultural self-exploration. Programs provide young Indigenous scholars with access to the best science universities and provide Indigenous communities with access to research expertise. Use grassroots outreach such as social media and word-of-mouth to promote the organization's work, volunteer to be a subject matter expert, support the Ilimanator Scholarship and Nigani Scholarship, mentor summer residential students, or donate cash.
Washington, DC
While federal funding covers 60% of what the National Museum of the American Indian needs to maintain its exhibitions, scholarship, and educational programming, the rest comes from donations. The museum's mission is to educate the public and change the way people think about Native Americans. A current exhibition highlights the Algonquian people of the Chesapeake Bay region.
Resources to Expand Your Knowledge
Native Land – Website
Plug in your address and learn about the Native history of the land you inhabit or click around on the interactive world map. You'll find territory boundaries, languages spoken in each territory, and information about treaties that affected the area.
Toasted Sister – Podcast
The Native American food show, hosted by Navajo radio producer Andi Murphy, explores Indigenous cuisine's past, present, and future.Toasted Sisteris especially relevant for the Thanksgiving season, when Native traditions can be honored on the dinner table.
This Land – Podcast
Rebecca Nagle, a journalist and citizen of the Cherokee Nation, hosts this podcast from Crooked Media exploring how two crimes—an 1839 assassination of a Cherokee leader and a 1999 murder in Oklahoma—opened an investigation into the treaty rights of five tribes and led to a landmark 2020 ruling in the United States Supreme Court.
Justice for Native People – Website
Justice for Native People, called Justice for Native Women when founded in December 2015, "raise[s] awareness for missing and murdered Indigenous people across North America with an emphasis on the United States." The updated name reflects the organization's expanding inclusion. The group's Facebook page regularly shares updates and information about missing Indigenous people and calls for action to support the communities affected. The group also keeps an extensive database of missing Indigenous people from North America.
An Indigenous Peoples' History of the United States – Book
This Roxanne Dunbar-Ortiz text reframes the nation's history from an Indigenous perspective and uncovers how colonialism and genocide built the basis of the United States.
Everything You Wanted to Know About Indians but Were Afraid to Ask – Book
Anton Treuer answers a slew of questions people have about American Indians in a sometimes-humorous book that aims to replace feelings of guilt and anger between white and Indigenous people with understanding and positivity.
The Sioux Chef's Indigenous Kitchen – Cookbook
Named "Best American Cookbook" by the James Beard Foundation in 2018, The Sioux Chef's Indigenous Kitchen packs tons of fresh and healthy Indigenous recipes. Put together by chef Sean Sherman of the Oglala Lakota Nation with the help of Beth Dooley, the cookbook is a modern twist on Native American cuisine that stays true to tradition.
Opheli Garcia Lawler is a Staff Writer on the News team at Thrillist. She holds a bachelor's and master's degree in Journalism from NYU's Arthur L. Carter Journalism Institute. She's worked in digital media for seven years, and before working at Thrillist, she wrote for Mic, The Cut, The Fader, Vice, and other publications. Follow her on Twitter @opheligarcia and Instagram @opheligarcia.