Here's How You Can Support the Black Community & the National Movement Right Now
Support the Black community and the Black Lives Matter movement by donating to these legal aid groups, social services, and more.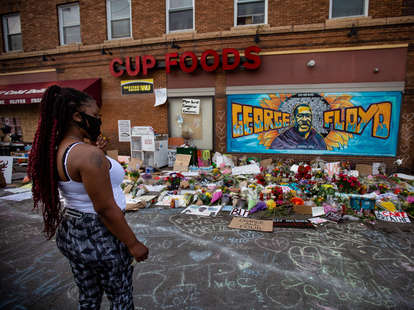 Jason Armond/Los Angeles Times/Getty Images
Jason Armond/Los Angeles Times/Getty Images
The May 25 murder of George Floyd by Minneapolis police is only one of many racial injustices sparking fury across the nation -- his death follows news of police shooting Breonna Taylor in her Louisville home on March 13, and Ahmaud Arbery getting chased and shot by white Georgia residents on February 23, among countless other incidents. But the Black Lives Matter movement is seeking to address more than just individual white cruelties. As American author and poet Scott Woods said, "[Racism] is a set of socioeconomic traps and cultural values that are fired up every time we interact with the world," and that "it is a thing you have to keep scooping out of the boat of your life to keep from drowning in it."
And the nation is certainly scooping. Since protests for George Floyd began in Minneapolis a few days ago, the Black Lives Matter movement has been quickly building momentum across the country. Right now, we are witnessing activism through both in-person gatherings/marches and on social media, where people are sharing the many ways you can support Black people and the movement from home if you are unable to safely join by foot. Here are some of the organizations and campaigns you can support and donate to now:
Organizations involved in the movement
The organizations listed below are taking immediate action to support the movement across the country, as well as working to improve the livelihood of Black people via continued financial support, protesting, and policy intervention.
The Black Lives Matter Movement
The BLM movement, founded in 2013 after George Zimmerman was acquitted of all charges in the killing of Trayvon Martin, is a multi-national organization that combats white supremacy through demonstrations, petitions, and online organizing. You can donate here, or donate to the original chapter in Los Angeles through their GoFundMe page here.
Reclaim the Block
Started in 2018, Reclaim the Block organizes the Minneapolis community and council members to move funds from the hands of the police to other areas covered by the city's budget. "We organize around policies that strengthen community-led safety initiatives and reduce reliance on police departments," the organization says in its mission statement. You can donate here to help those on the field protesting.
Black Visions Collective
The 2017-founded Black Visions Collective focuses mainly on expanding Black influence in the Twin Cities metro area and Minnesota, they are also heavily involved in delivering Black Lives Matter protest's mobilization and action plans. You can keep up with them on Instagram, where the group is currently promoting a petition to defund the Minneapolis Police, or donate to collective in general through this page shared on its website.
BEAM
BEAM is an organization working to "remove the barriers that Black people experience getting access to or staying connected with emotional health care and healing," according to its mission statement. Support programs that address mental health and healing in Black communities with a one-time donation here, or a monthly contribution here.
The NAACP Legal Defense and Educational Fund (LDF)
The LDF has fought racial injustice through litigation, advocacy, and public education for over 75 years. Support the organization's continued battle to improve our judicial system here.
The National Association of Black Journalists
Help support Black journalists and media professions by donating to America's largest group for journalists of color. The organization promotes media diversity and supports workers who have been laid off or struggle to find employment.
EDITOR'S NOTE: Organizations that have been shared often, like the North Star Health Collective and the Minnesota Freedom Fund, have announced that they are no longer in need of donations and wish for them to be directed elsewhere. Be sure to check the websites and/or social pages of each organization before you donate.
Funds to help the victims
During demonstrations and marches, protestors have been chanting "Say his/her name," followed by the names of victims, to highlight our nation's failure to acknowledge, value, and prioritize Black lives. Meanwhile, family and friends of these victims struggle with devastating losses and attempt to honor the victims in ways that America has failed to.
You can donate to these loved ones and support them in their investigations through the GoFundMe pages listed on the official Black Lives Matter donation page, which include the George Floyd Memorial Fund and the Ahmaud Arbery Fund, as well as funds for Regis Korchinski, whose death in Toronto is currently under Special Investigative Unit investigation for police brutality, and Jamee Johnson, who was killed after being pulled over for a seat belt violation.
Local Black businesses and community organizations
Along with the important national causes, you can also support local Black-owned businesses and community organizations. Here's where you can shop and donate in several major cities:
If you do not have the means to donate
If your capacity to give money is limited right now, there are plenty of other powerful ways to help out with your voice and your signature. First off, you can demand police accountability from your legislators with the help of tools like Campaign Zero's 10-step policy solution guide, which includes information about policies that can protect against racism, and by using the "find your rep" tool to get information on who you should contact and how. You can also sign petitions in support of the Georgia Hate Crime Bill and the Hands Up Act, among other petitions listed in the description of this YouTube video.
Additionally, it's always the perfect time to explore anti-racist resources and become more educated on the issues. Here are some books, podcasts, and articles to check out. One titled "75 Things White People Can Do for Racial Justice" is a good start.
More ways to help?
We're adding even more organizations and businesses to this list, so if you'd like to see an additional group or community resource included, send us a note with the organization's name and website to feedback@thrillist.com.
Sign up here for our daily Thrillist email and subscribe here for our YouTube channel to get your fix of the best in food/drink/fun.
Ruby Anderson is a News Writer at Thrillist. Send additional tips to randerson@thrillist.com.