Logged into Facebook in the last few days? You may have noticed a little message from the social network at the top of your News Feed announcing that it's expanding its facial recognition features. Naturally, that may have set off some alarm bells among the privacy-conscious among us, and rightfully so. What the hell does Facebook need to track your face for, anyway?
Recommended Video
The History of Delivery & Takeout
The reality is, Facebook's been using face recognition for a while now, mostly to make it easier to tag people in photos. According to the message, the expanded features are intended to do things like protect you from strangers using your photos and help find photos you're in but not tagged. However, hot on the heels of a court ruling against the company regarding its biometric data gathering and storage programs, it seems the announcement is serving less as a celebration of the new functionality and more as calculated move to appear more transparent by making it very clear that you can easily disable the feature.
In any case, if you just want to make sure Facebook isn't tracking your face, here's what to do.
From the mobile Facebook app
Launch the Facebook app, go to your profile page, and tap the More button all the way to the right beneath your cover and profile photos. Select View Privacy Shortcuts from the popup and scroll down to More Settings, and tap Face Recognition. Here, it'll ask you whether you want Facebook to be able to recognize you in photos and videos, tap the question and select No if you want to disable the face recognition feature altogether.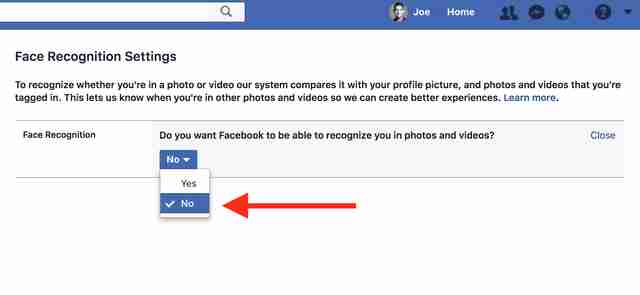 From your desktop browser
Log onto Facebook, tap the down arrow all the way to the right on the menu bar and select Settings. Tap Face Recognition, and on the subsequent screen click Edit on the right. Select No from the drop-down to disable face recognition.
Sign up here for our daily Thrillist email and subscribe here for our YouTube channel to get your fix of the best in food/drink/fun.