There's a Total Solar Eclipse Today. Here's How to Watch It.
How to see the rare total solar eclipse tearing across the US.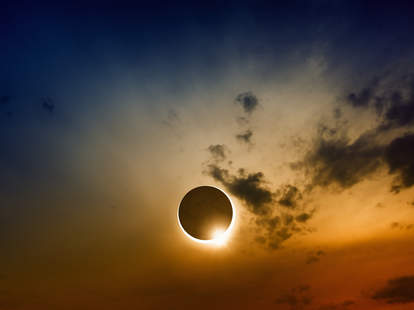 You probably remember the 2017 total solar eclipse that ran from Oregon to South Carolina. It's a spectacular sight when you're in the line of totality. There's good news and bad news for anyone who enjoyed that show. The good news is there will be another total solar eclipse on Tuesday, July 2. The bad news is that you're not going to be able to see it from North America, at least, not in person.
The 2019 installment will spend most of its time over the South Pacific Ocean, but it will hit land to cross Chile and Argentina around an hour before sunset. A partial solar eclipse will be visible in Bolivia, Peru, Ecuador, Paraguay, Uruguay, Brazil, Colombia, Panama, and Venezuela, per NASA. For residents of the United States, Canada, and Mexico, the only options for watching the spectacle are either a serious last-minute trip or watching online. We can help with the latter.
The eclipse will only cross land for about six minutes with viewers on the ground getting up to four minutes and three seconds of visibility, according to NASA. Despite the tight time frame, it could produce dazzling images. The Great American Eclipse in 2017 was largely visible high in the sky. Because of the late hour when the total eclipse reaches Chile and Argentina, it will be lower in the sky and will be seen over mountain ranges in some areas.
What time is the solar eclipse?
The 2017 eclipse was a special event in part because almost the entire time the moon's shadow was crossing the Earth, it was crossing land. This year it's not quite so easy to see. For the majority of the about two hours of the eclipse, the moon's shadow will be at sea. It's only going to be on land for around six minutes, per NASA. So, if you want to stream the event, you're going to need to tune in a little early and not take a bathroom break right when it's going down.

The path of totality hits Chile at 8:38pm UT. That's 4:38pm EST and 1:38pm PST.
How to stream the solar eclipse
The video player above is from timeanddate.com, which will have a live stream running throughout the eclipse. It will start about 90 minutes before the event takes place. That can be watched above or on the site's YouTube channel.

Exploratorium will have a live stream from the National Science Foundation's Cerro Tololo Observatory in the Elqui Valley. That stream will run through the Exploratorium's eclipse apps, as well as on its site in both English and Spanish. The stream starts at 4pm EST.

Slooh, a site that often provides live streams of meteor showers, will also run a stream. This broadcast will last from 1pm to 5pm EST, hosted by astrophysicist Dr. Paige Godfrey.

Lastly (though this list isn't exhaustive), you'll be able to follow along from 4-5pm EST at Weather.com. The Weather Channel's Danielle Banks will host with special guest John Gianforte, astronomer at the University of New Hampshire.
Sign up here for our daily Thrillist email and subscribe here for our YouTube channel to get your fix of the best in food/drink/fun.