This Map Shows San Francisco Is Covered in Human Poop
Fecal matter is elusive, and doesn't necessarily register until it's crusted on the bottom of your shoe. But there might be a dark cloud of poo hovering above your city, as evidenced by this stinky, stinky map.
Citing human waste reports made in San Francisco, software engineer Jenn Wong mapped the city's most poop-ridden neighborhoods, and it is a feast for watery eyes. Her project, called Human Wasteland, is pretty exhaustive, listing reports made by individual 311 calls from 2008-2015. If there was a frantic call made to city authorities about a steaming pile over that seven-year period, it's listed in Wong's map in the form of that ubiquitous poop emoji.
The map details every poop citing on a monthly basis, too. For example, here's the literal crapshoot of San Francisco in January, 2015.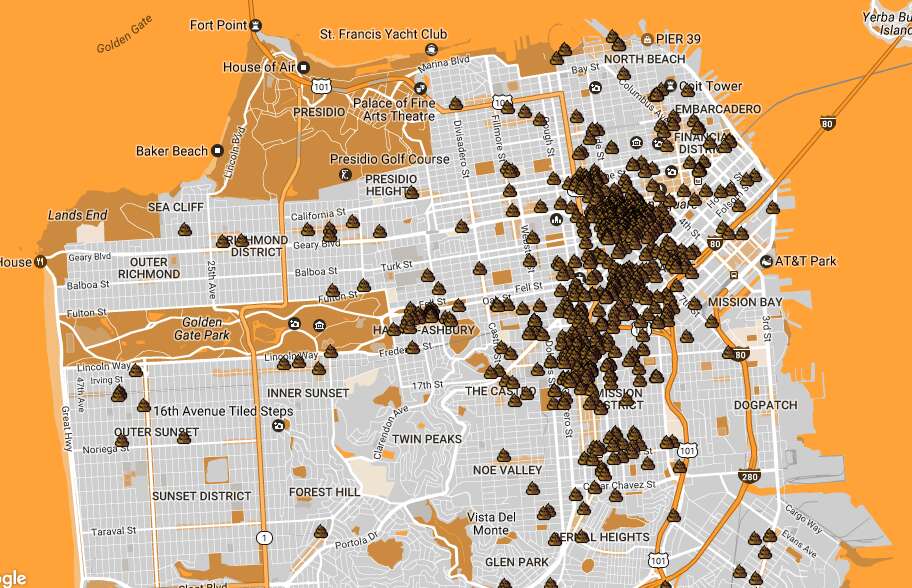 This isn't a map of errant dog turds, mind you, but of human waste. Wong tells Thrillist in an email that her map is meant to shed light on the issue of homelessness in San Francisco, which is pervasive: "Because of [the map's] popularity," she writes "the issue of homelessness in San Francisco resurfaced in the media, which means there's X many more people aware of this problem and how they can help. I feel lucky to have been part of that."
The map is also predictive of whether you'll encounter a poo-river or turd-minefield while walking down the street in SF, because it's got a search function.
Wong says her map has gotten 135,000 views since she first started compiling the data in November 2014. Considering its popularity -- and its use for public service and promoting awareness of an important issue -- it surely deserves more.
Sign up here for our daily Thrillist email, and get your fix of the best in food/drink/fun.
Sam Blum is a News Staff Writer for Thrillist. He's also a martial arts and music nerd who appreciates a fine sandwich and cute dogs. Find his clips in The Guardian, Rolling Stone, The A.V. Club and Vice. He's on Twitter @Blumnessmonster.