Watch These Puppies Frolic With the Fishes in an Empty Aquarium
Animals are impacted by social distancing, too. Nobody pets Doggy in the park anymore, and Kitty lost her throne when you started working full-time on the chaise. But some animals are seeing more of the world in unexpected ways; Penguins are roaming temporarily-closed aquariums, for example, as are adorable puppies, according to the latest news from the Georgia Aquarium in Atlanta.
Georgia Aquarium told Thrillist that, on March 24, it teamed up with the Atlanta Humane Society for a puppy "day out." The Humane Society brought two 2-month-old Jack Russel Terrier mixes to the aquarium--Carmel and Odie--and set them loose in the Ocean Voyager gallery.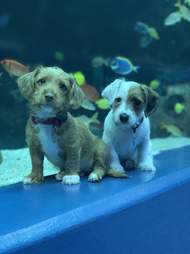 Georgia Aquarium
The Ocean Voyager gallery, one of the largest single aquatic exhibits on earth, houses whale sharks, manta rays and a large assortment of other fish. And, for a brief moment in time, it was home to humanity's single greatest defense against life's unexpected setbacks--sleepy foster puppies.
Georgia Aquarium
Great news: According to a representative from the aquarium, Carmel and Odie have both found their forever homes. But you can help puppies like them by visiting Atlanta Humane Society's website and perusing the many options for supporting the organization, which include fostering, adoption, making a general donation, and joining a caregivers club.
Sign up here for our daily Thrillist email and subscribe here for our YouTube channel to get your fix of the best in food/drink/fun.