Anheuser-Busch Sent 155,000 Beer Cans of Drinking Water to Harvey Victims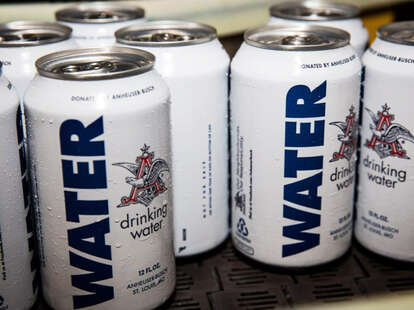 Courtesy of Anheuser-Busch
Anheuser-Busch has sent over 155,000 cans of emergency drinking water in response to Hurricane Harvey, the Category 4 hurricane that has swept the Gulf Coast and devastated much of Texas since making landfall on Friday night. The brewing company, a division of Anheuser-Busch InBev, shipped the cans in three truckloads to American Red Cross facilities -- with two going to Arlington, Texas, and one sent to Baton Rouge.
The beer company's Cartersville brewery -- near Marietta, Georgia -- periodically stops production throughout the course of the year to prepare and can clean emergency drinking water used to respond in situations like these. "This clean, safe emergency drinking water was already canned and ready to be shipped when the Red Cross issued an urgent request to support communities hit by Hurricane Harvey," Anheuser-Busch said in a press release.
Hurricane Harvey whipped and hammered some of the most populous cities in Texas with heavy rain and winds as fast as 130 mph. It's stranded thousands of Gulf Coast residents, with several of them waiting on their roofs for rescue. The picture The New York Times paints is a harrowing one: "The Houston region now looks like an inland sea dotted by islands, with floodwaters inundating roads, vehicles, and even bridges and buildings."
Anheuser-Busch has a history of throwing support behind relief efforts, and it has approximately three facilities and 1,100 employees in the Houston area alone. They're all safe, according to the brewing company.
In a statement on Monday, Bill Bradley, Anheuser-Busch's Vice President for Community Affairs, emphasized that "safety of our colleagues is paramount," and expressed his support for the company's workers in Houston, as well as the relief effort.
"Putting our production and logistics strengths to work by providing safe, clean drinking water is the best way we can help in these situations," he said.
Donate to American Red Cross relief efforts for Hurricane Harvey here. You should also give blood, as the American Red Cross is currently in a shortage. If you have questions or concerns about that, read our guide with the answers.
Sign up here for our daily Thrillist email and subscribe here for our YouTube channel to get your fix of the best in food/drink/fun.