There's Another Huge Hurricane Headed Toward the US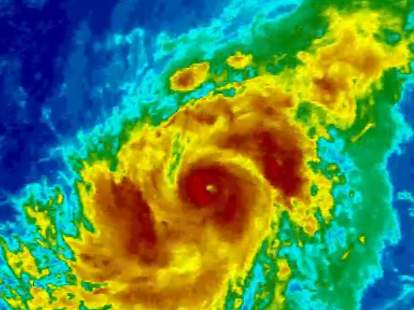 Eastern Texas and Louisiana are still reeling from the impact of Hurricane Harvey and the massive flooding it brought. But there's already another storm brewing in the Atlantic. Hurricane Irma was upgraded to a Category 3 storm (111-129mph winds) Thursday and is "rapidly intensifying."
Irma is currently around 700 miles west of the Cabo Verde Islands, but meteorologists are projecting it could hit the US sometime late next week. They're also forecasting that conditions are right for the storm to potentially become a Category 4 or 5 event.
"Irma is forecast to become a major hurricane by tonight and is expected to be an extremely dangerous hurricane for the next several days," the National Hurricane Center wrote in its Thursday morning advisory.
The ultimate path of the storm is difficult to project because there are many variables in play. "It is way too soon to say with certainty where and if this system will impact the US," AccuWeather hurricane expert Dan Kottlowski told the USA Today. 
However, whatever its path, conditions are favorable for Irma to continue picking up power, with warm water approaching, low shear environments, and high humidity in the path of the storm. The current trajectory has it heading toward the Leeward Islands. After that Puerto Rico, the Bahamas, and the mainland United States are the places in the potential path.
The storm will take about a week to make its way across the Atlantic, according to AccuWeather. A lot can happen over the course of a week, but it's worth keeping an eye on if you're situated along the east coast.
Sign up here for our daily Thrillist email, and get your fix of the best in food/drink/fun.
Dustin Nelson is a News Writer with Thrillist. He holds a Guinness World Record but has never met the fingernail lady. Follow him @dlukenelson.