This 'Hurt Me' Meme Is Painfully Honest and Hilarious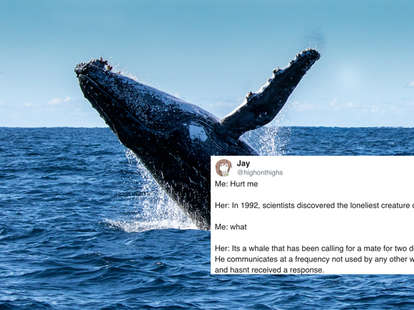 Shutterstock.com - Edited
You may have noticed a new meme flooding Twitter over the last few days. It's particularly noticeable because it can hit a little too close to home at times.
The "Hurt Me" meme is a conversation between two people in the midst of sex. One asks the other to hurt them, and they respond with something that cuts a little too deep in an unexpected way. In one early version, the second person responds, "Your sister's more successful than you." Then they add, "Not a big fan of the new haircut."
The meme has proliferated recently, but it actually dates back to early July in a tweet from author Lilah Sturges, according to Know Your Meme. The site says the Sturges tweet was followed weeks later by a couple of tweets from @Skoogeth, which used the same template. Later, it was the tweet above that appears to have turned this into a full-blown meme.
Take a look below for some of the best versions of the "Hurt Me" meme floating around Twitter.
Of course, some people called out the meme (using the meme) to acknowledge that this has basically nothing to do with sex or BDSM.
Sign up here for our daily Thrillist email and subscribe here for our YouTube channel to get your fix of the best in food/drink/fun.

Dustin Nelson is a News Writer with Thrillist. He holds a Guinness World Record but has never met the fingernail lady. Follow him @dlukenelson. dnelson at thrillist dot com