I Called 1-800-HOTLINEBLING. Here's What Happened.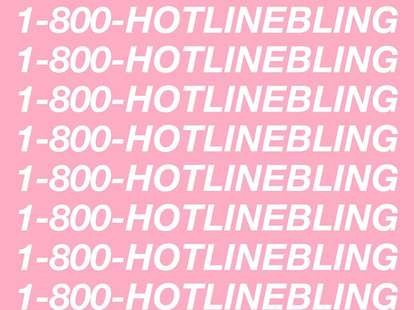 I feel no shame for my obsession with Drake's newest hit. I know it makes me a basic bro or whatever, but who the hell cares -- it's a fantastic song. Unlike the other songs out there that use a real working number (re: 867-5309) there hasn't been a ton of coverage... or really any coverage about people actually calling the number, or who owns it, for that matter.
For what it's worth, here it is: 1-800-468-546325464
I called it and got some interesting results. When you make a local call with way more digits than the average telephone number, only the first eleven go through. So I was promptly connected to a regular working phone number.
After waiting for a few rings, I was connected to an automated voice informing me that I had called "1-800 Hotline," a company that protects against credit card fraud. Per my editor's request, I hit zero and was connected with a human named Nancy. Speaking with a slight midwestern accent, Nancy informed me that the call center she worked for was fully aware of the Drake song and suggested I talk to her manager, Rob. So I did.
Rob ended up being the friendliest guy I'd ever had the pleasure of speaking with over the phone (trust me, there've been plenty of mean ones) and answered some of my burning questions about what it's like to work for a company that gets inundated with calls from Drake fans.
"Some of our workers here really like Drake, so they put it together pretty early on when the calls started coming in," said Rob, chuckling at the hilarity of the whole situation. I asked him what people would do when they'd call, assuming not all of them were writers on a mission to unravel Drake-centric mysteries.
"Oh, people would call us and sing to us, ask for Drake, you name it.. Some people actually sing beautifully. Most people are very, very polite... very big, great fans of Drake from way back in the day." Rob went on to say that they typically receive fifteen calls a day from fans. So really, not exactly making that hotline bling.
It seems Rob and his staff are taking it all in stride, though, and Rob simply asks his call-takers to remain professional. So, there you have it. Mystery solved. 1-800 HOTLINEBLING leads to a company that can help you with your credit card woes. Anyway, brb, gotta make a call to 867-5309 now.
Sign up here for our daily Thrillist email, and get your fix of the best in food/drink/fun.
Jeremy Glass is a writer for Thrillist and used to call you on the cell phone.