This Gorgeous Ice Hotel Has to Be Rebuilt Every Year
When you vacation in a winter wonderland, you're usually protected from the elements. You sleep in a glass igloo or a giant bubble, and you admire the beauty of your wintery surroundings. You generally aren't sleeping in the cold.
Located in Jukkasjärvi, Sweden, the Icehotel asks visitors to sleep in the ice. This sno-tel is an annual phenomenon in the city. There's an open call every year looking for new makers to come in with fresh ideas. The rooms are then crafted by graphic designers, architects, industrial engineers, or artists with a big idea.
When the Torne River freezes near the town with a population under one thousand, it provides the ice for the portion of Icehotel that isn't open 365 days a year. It opens in November and lasts until the ice starts to melt.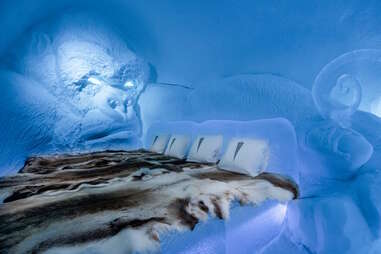 The rooms are beautiful. There are rooms with a giant King Kong cradling a bed, space people monitoring your sleep, and wild designs that feel like you're staying on another planet. This year, Icehotel, founded in 1989, brought in 36 artists from 17 countries, to carve the 35 suites. (Some of which call to mind that Game of Thrones ice hotel.)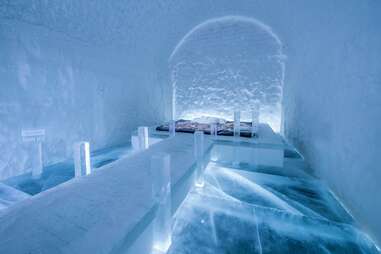 Around 50,000 people visit Icehotel annually. According to the hotel, most visitors spend just one night in the ice rooms and spend the rest of their stay in the warmer hotel rooms that are actually hotel rooms. Though, the temperature inside rooms never drops below 23 degrees Fahrenheit inside the rooms. (Cold comfort, but it gets colder than that outside.)
Like other frigid hotel experiences, there's no plumbing in the icy rooms. Instead, there's a common space with a sauna, "relaxation area with a roaring fire," and hot lingonberry juice on tap. There's also a guide who holds a survival course for anyone staying in the ice rooms. The course instructs guests on how "to dress appropriately and how to make the bed with the Arctic sleeping bags," which are made for temperatures as low as -13 degrees Fahrenheit.
In the morning, staff drops by with hot lingonberry juice to be taken in bed, and guests get a "diploma" when they check out. It states the date and outdoor temperature on the night you braved the Arctic cold.
Check out more of this year's the rooms below. Then book your room.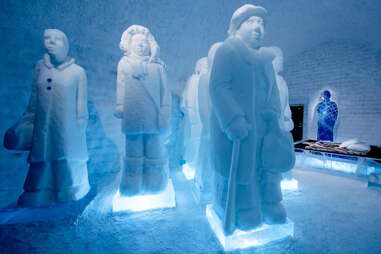 Sign up here for our daily Thrillist email, and get your fix of the best in food/drink/fun.
Dustin Nelson is a News Writer with Thrillist. He holds a Guinness World Record but has never met the fingernail lady. Follow him @dlukenelson.