Many airlines pass through Iceland and some, like WOW Air, frequently have alluring deals. However, Icelandair isn't a budget airline. The airline has excellent perks that ought to make you perk up when there's a flash sale like there is right now.
The Icelandair flash sale lasts until March 30, which makes it a little longer than a typical flash sale, but whatever, tickets are cheap. No complaining. The airline will get you to Reykjavik for as little as $263. It's worth noting that unlike budget airlines, Icelandair prices don't include hidden costs or fees for carry-on bags that erase the warm feeling of getting tickets on the cheap. (Icelandair doesn't charge for a carry-on or your first checked bag.)
Recommended Video
Art of the Meal: Chloe Rose Makes Super Mario Bros Art With Hot Sauces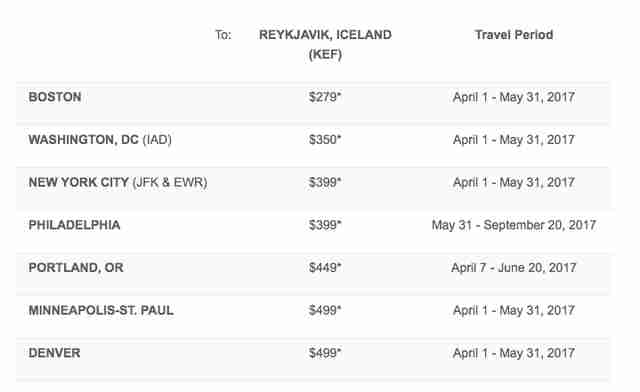 Beyond the absence of hidden costs, the big perk of flying Icelandair is their free stopover policy. Generally, a layover is a bad thing, but these layovers are worth seeking out. The airline allows you to stay in Iceland up to seven days before you get back on the plane and head to a European destination. With other airlines, you're buying an extra flight. Icelandair treats it like an extended layover.
Check out the prices at their site and remember that even in a flash sale, prices can rise. To take advantage of prices at their absolute cheapest, get on it as soon as you can. They might not last. 
Sign up here for our daily Thrillist email, and get your fix of the best in food/drink/fun.