This City Went Dark So People Could Enjoy the Northern Lights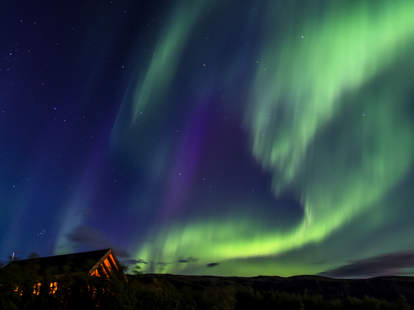 Not everyone in the world is fortunate enough to see the dazzling Northern Lights, so when you live in a place where the natural phenomenon is relatively common, you'd better take that privilege seriously. That's exactly what Iceland did on Wednesday, when its capital city darkened its street lights so that people could truly enjoy the spectacular show.
As explained in a report by The Independent, the Reykjavik City Council called for the city to extinguish its lights from 10pm to 11pm so as not to interfere with a particularly stunning display of the aurora borealis caused by a powerful solar storm. Specifically, the city turned off its streetlights and urged residents to dim the lights in their homes to reduce light pollution. Pretty damn cool, right?
While drivers were forced to be extra cautious in the darkness, many in the city managed to witness the gorgeous green ribbons of color light up the night sky, as evidenced by photos shared on social media. Here are few good ones:
Sign up here for our daily Thrillist email, and get your fix of the best in food/drink/fun.
Tony Merevick is Cities News Editor at Thrillist and, as a huge fan of the His Dark Materials trilogy, would love to experience the northern lights some day. Send news tips to news@thrillist.com and follow him on Twitter @tonymerevick.