You Can Get All-You-Can-Eat Pancakes at IHOP Right Now for $5.99
You'll get a five pancakes with two-stack refills until you can't eat anymore.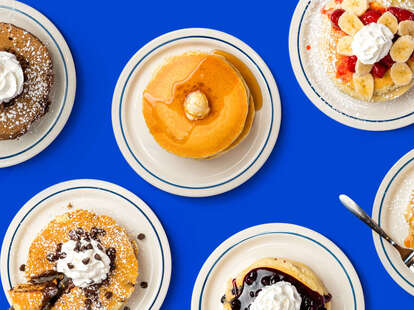 Whether you're on a new year, new you budgeting kick or just really like your morning carbs, IHOP has some great news. The beloved breakfast food chain just brought back its fan-favorite all-you-can-eat pancakes promotion, so you can load up on hot cakes for only $5.99.
As the deal goes, you'll snag five buttermilk pancakes from the start, with two-stack refills until you quite literally can't eat anymore. That's the name of the game. You can also pair your flapjacks with the Ultimate Bacon & Sausage Combo, Bacon & Eggs Combo, Sausage & Eggs Combo, Ham & Eggs Combo, or Regular Combo.
"YoU CaN'T EaT aLL tHe PaNcAkEs - someone who doesn't know that All You Can Eat Pancakes are back at IHOP, probably," the brand wrote on Twitter.
The combos, however, will cost you extra, so if you aren't looking to spend beyond that $5.99, just keep your eye on the prize—a.k.a. housing as many pancakes as possible. The promotion is dine-in only and available for a limited time. Prices may vary by location.
If you need a little inspiration on the ordering front, just take a scroll through Thrillist's definitive pancake ranking. We've rounded up our 13 favorite IHOP stacks, including the chain's English Sticky Toffee, Blueberry, and Strawberry'N Cream flapjacks.
Megan Schaltegger is a staff writer at Thrillist.