IHOP Is Launching a New Fast Casual Chain With a Build-Your-Own-Pancake Bar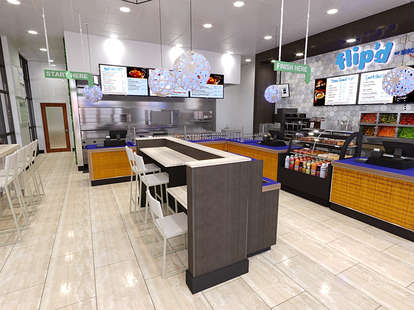 Food service is changing and pancakes can't keep up. People want to grab 'n go, but IHOP's cheesecake pancake strawberry topping would grab 'n stay on the clothing of anyone who attempts to go. IHOP knows this. It knows it's a hot, syrupy mess, so it's launching new concepts and having a fast-casual baby for breakfast eaters of the future. And that baby will be named Flip'd.
On Wednesday, IHOP announced the new fast casual restaurant chain Flip'd will "fill a gap in the restaurant space by focusing on freshly-made breakfast foods and beverages with speed and convenience in mind." This means that while the new concept will borrow from Daddy IHOP's menu, it'll look a bit more like its future-forward mother. Think Chipotle, but for breakfast food.
When you enter Flip'd, you'll see both digital kiosks and a counter for ordering. You'll also be able to order food online in advance and either pick up the orders or have them delivered, as is becoming the norm for other major chains.
As for the IHOP-inspired menu, there will be a Build Your Own Pancake Bar, with a choice of made-in-house pancakes or oatmeal as a base and a variety of mix-ins and toppings from the Top It Off bar (fresh fruit, chocolate chips, caramel sauce, etc). You can also get an assortment of egg sandwiches, breakfast burritos, crispy chicken sandwiches, freshly-squeezed juice, grab-and-go salads, burgers, baked goods, nitro cold brew, and more, according to the company.
IHOP plans to open its first Flip'd in Atlanta in April 2020, and is also considering opening locations in New York City, Washington, DC, Denver, and San Francisco. The company is focusing on "addressing a growing consumer demand in densely populated city centers," and we should be focused on moving to these densely populated city centers as quickly as possible. See you at the pancake bar.
Sign up here for our daily Thrillist email and subscribe here for our YouTube channel to get your fix of the best in food/drink/fun.