IHOP Just Revealed Why Its New Name Is 'IHOb' & It's Exactly What You Thought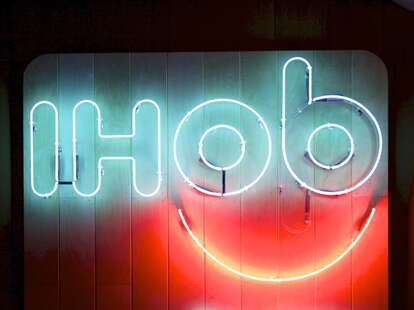 Courtesy of IHOb
Courtesy of IHOb
Breakfast, beets, bananas, breakbeat, Bitcoin -- if any of those words were your guess for what's behind IHOP's move to change its name to IHOb, you were wrong. Unfortunately.
The ubiquitous pancake purveyor finally revealed why it's flipping the "P" in its name to a "b" on Monday after several days of drawn-out speculation. The answer is, well, not at all surprising. And for that reason, a tad disappointing.
The "b" stands for burgers.
That's right, International House of Burgers. The chain is temporarily taking on the new name to promote the launch of its lineup of all-new burgers. The pancakes aren't going anywhere, of course. IHOP, or IHOb, just really wants you to know about the burgers. We all fell for the stunt.
IHOb calls the new burger lineup Ultimate Steakburgers and they're officially available at the chain's locations nationwide, starting on June 11. Each of the new burgers is made with 100% USDA Choice, Black Angus ground beef that's smashed on the grill, then topped with various ingredients and stuffed into a buttery grilled brioche bun, according to a press release. The Ultimate Steakburgers lineup include seven different burger options: Big Brunch, Cowboy BBQ, Jalapeño Kick, Mushroom & Swiss, The Classic, The Classic with Bacon, and Mega Monster.
The company said the temporary name change is meant to show how serious it is about burgers now.
"Everyone knows that IHOP makes world-famous pancakes so we felt like the best way to convince them that we are as serious about our new line of Ultimate Steakburgers as we are about our pancakes, was to change our name to IHOb," Brad Haley, Chief Marketing Officer for IHOb restaurants, said in a statement. "We've pancaked pancakes for 60 years now so it's the perfect time to start burgerin' burgers, and we're kicking it off by flipping the 'p' in IHOP to a 'b' for burgers."
The reactions to the stunt so far are more or less what you'd expect:
Well, there you have it, folks. Burgers.
Sign up here for our daily Thrillist email and subscribe here for our YouTube channel to get your fix of the best in food/drink/fun.

Tony Merevick is Senior News Editor at Thrillist and hates the internet sometimes. Send news tips to news@thrillist.com and follow him on Twitter @tonymerevick.