The World's First IHOP/Applebee's Hybrid Restaurant Is Opening in 2017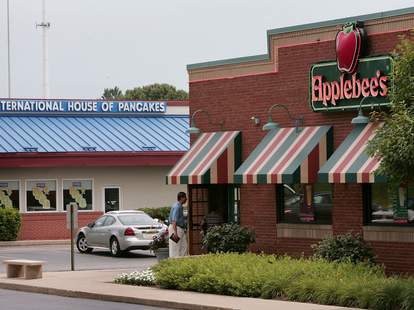 Depending on which sprawling suburban strip mall you're in, there's a good chance you can find an IHOP and an Applebee's nearby, if not literally right next to each other -- should you ever need Double Blueberry Pancakes and a Bourbon Street Steak at the same time. But believe it or not, you'll soon be able to experience both ubiquitous chains under the same damn roof, thanks to the world's first-ever IHOP/Applebee's hybrid restaurant. Seriously.
The Detroit Free Pressreports that an experimental restaurant combining the pancake purveyor and the prom date favorite is expected to open in downtown Detroit sometime in late 2017. The bizarre, 300-seat gastronomic collision will be located inside the city's Millender Center, and will be geared toward hungry people at nearby hotels and offices as well as residents and visitors in the city, per the paper. Oh, and probably people who'll inevitably attempt to eat breakfast, lunch, and dinner at the same restaurant in the same day. Really, challenge accepted.
However, it's currently unclear if you'll be able to order IHOP's Bacon & Egg Breakfast alongside, say, a Shrimp 'N Parmesan Sirloin from Applebee's at the same time, as the restaurant's menu is currently under development, according to the report. But then again, wouldn't such a surreal dining experience be the main appeal? Who wouldn't want to snack on a plate of boneless buffalo wings and a side of hash browns after a long day at work? Should that be a reality, they'll probably make a fortune.
While an IHOP/Applebee's hybrid might sound weird, it actually makes sense, business-wise, considering IHOP bought Applebee's and formed a California-based parent company called DineEquity back in 2007. With any luck, the experimental Detroit location will be just the first of many the company unleashes in the future.
Sign up here for our daily Thrillist email, and get your fix of the best in food/drink/fun.
Tony Merevick is Cities News Editor at Thrillist and wonders how long it'll take for someone to eat breakfast, lunch, and dinner there in the same day. Send news tips to news@thrillist.com and follow him on Twitter @tonymerevick.